2011: #7 – Vows, Vendettas & a Little Black Dress (Kyra Davis)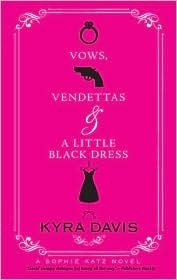 Book #7 was Vows, Vendettas & a Little Black Dress, the 5th book in Kyra Davis's Sophie Katz series.  The back of the book reads:
Overjoyed at Maryanne's engagement, amateur sleuth Sophie Katz can't wait for the wedding vows and party toasts to begin. But then Dena—best friend, bridesmaid and all-around vixen—is mysteriously shot just after the announcement. Leave this to the authorities? No way. Dena may never walk again, and Sophie vows to marry her fists with the shooter's face.

Problem is, the number of suspects is off the charts—from jaded lovers to anti-free-lovers to just plain old haters. Dena's made plenty of enemies thanks to her popular sex shop—and, yes, she's no saint—but really, who deserves to be shot?

With an überlogical almost boyfriend condemning her vigilante quest, and a wedding planner going vicariously bridezilla over the dream princess wedding, Sophie's barely thinking straight. But if she can keep her cool (and avoid all errant taffeta), she just might nab her man and save the (wedding) day.

Big if.
Sophie is an established author who fancies herself a bit of a detective. I'm jumping in 5 books into the series, but any backstory that was relevant is explained. The characters here are over-the-top in one way or another, from the Disney loving Mary-Ann and Monty to the polyamorous Dena and Jason to the perpetually-stoned Amelia to the secretive Russian Anatoly. And Sophie is the glue that holds all of them together. As you would expect from the cover, the tone to this mystery is relatively light.  At least, as light as it can be when someone has been shot and possibly paralyzed. My one complaint is that Sophie doesn't really do any detecting here… things just sort of happen to her, and she reacts. The actions she takes are generally a result of someone else's contribution or intervention.  And at one point it looked like there was going to be a twist, but then it just evaporated. I think I might have preferred that to the actual ending, which was not entirely unexpected.  All in all, this wasn't a bad read, but I probably won't rush out to pick up the earlier books in the series.
This book was a review copy.
Page count: 320 ('11 total: 1,638) | Approximate word count: 80,000 ('11 total: 646,873)
2010: Pacific Vortex (Clive Cussler)
2009: Plum Spooky (Janet Evanovich)
2008: Gone (Lisa Gardner)
2007: The Dark Tower (Stephen King)
2006: Whiteout (Ken Follett)
2005: Twisted (Jonathan Kellerman)
Used in these Challenges: Four Month Challenge – Part 5; ARC Reading Challenge 2011; New Author Challenge 2011; Outdo Yourself Reading Challenge 2011;