2011: #35 – Packing for Mars (Mary Roach)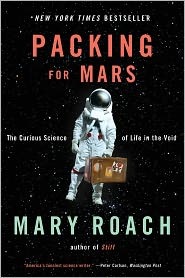 Book #35 was Packing for Mars: The Curious Science of Life in the Void by Mary Roach. The back of the book reads:
Space is a world devoid of the things we need to live and thrive: air, gravity, hot showers, fresh produce, privacy, beer. Space exploration is in some ways an exploration of what it means to be human. How much can a person give up? How much weirdness can they take? What happens to you when you can't walk for a year? have sex? smell flowers? What happens if you vomit in your helmet during a space walk? Is it possible for the human body to survive a bailout at 17,000 miles per hour? To answer these questions, space agencies set up all manner of quizzical and startlingly bizarre space simulations. As Mary Roach discovers, it's possible to preview space without ever leaving Earth. From the space shuttle training toilet to a crash test of NASA's new space capsule (cadaver filling in for astronaut), Roach takes us on a surreally entertaining trip into the science of life in space and space on Earth.
I've yet to read one of Mary Roach's books and not find her entertaining. This book was more about the history of space exploration in general than Mars in particular, but it's important to understand the history before we can jump into a mission that major. I learned a lot that I didn't know, especially about the sort of "middle ages" of space exploration, between the first moon landing and the Challenger explosion. Sadly, I didn't know a whole lot about that time period. For instance, I didn't realize that the Soviets were launching space stations all the way back in the 70s, or that Mir was launched in 1986 — I'd always thought of space stations as more modern constructs. I also didn't realize just how many animals were actually launched into space. Roach's ever-present sense of humor is here, and that's what makes her non-fiction so readable and easy to identify with. My only complaint is that it seemed like every time I read while eating lunch, I'd hit a chapter involving some sort of bodily waste. I guess this really isn't meal-time reading!
Overall, I'm still quite the fan of Mary Roach, and I look forward to seeing what topic she attacks next.
"In retrospect, it was silly to think that the experience of traveling in space could be approximated by a repurposed walk-in freezer. To find out what would happen to a man alone in the cosmos, at some point you just had to lob one up there."
This book was a review copy.
Other reviews:
Book Review: PACKING FOR MARS by Mary Roach | The Book Lady's Blog
S. Krishna's Books: Book Review: Packing for Mars – Mary Roach
eclectic / eccentric: Book Review: Packing for Mars
Mary Roach – Packing for Mars « Fyrefly's Book Blog
Packing for Mars | Fizzy Thoughts
Page count: 336 ('11 total: 9,305) | Approximate word count: 100,800 ('11 total: 3,405,160)
2010: Murder at the Vicarage (Agatha Christie)
2009: The Hunger Games (Suzanne Collins)
2008: A Thousand Splendid Suns (Khaled Hosseini)
2007: Iceberg (Clive Cussler)
2006: Seeing a Large Cat (Elizabeth Peters)
2005: A Secret Splendor (Sandra Brown)
Used in these Challenges: ARC Reading Challenge 2011; Outdo Yourself Reading Challenge 2011; Four Month Challenge – Part 6;