2020: #25 – The Turn (Kim Harrison)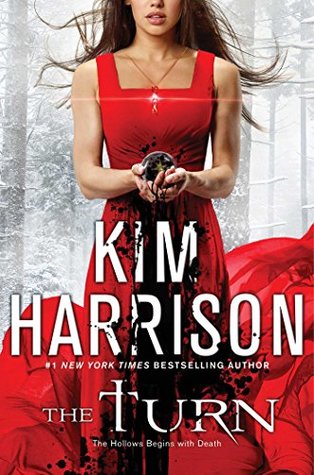 The Turn: The Hollows Begins with Death
by
Kim Harrison
Series:
The Hollows #0
Published by
Gallery Books
on February 7, 2017
Genres:
urban fantasy
Pages:
441


Also by this author:
American Demon
,
Million Dollar Demon
Also in this series:
Million Dollar Demon
Can science save us when all else fails? Trisk and her hated rival, Kal, have the same goal: save their species from extinction. But death comes in the guise of hope when a genetically modified tomato created to feed the world combines with the government's new tactical virus, giving it an unexpected host and a mode of transport. Plague rises, giving the paranormal species the choice to stay hidden and allow humanity to die, or to show themselves in a bid to save them. Under accusations of scientific misconduct, Trisk and Kal flee across a plague-torn United States to convince leaders of the major paranormal species to save their supposedly weaker kin, but not everyone thinks humanity should be saved, and Trisk fights the prejudices of two societies to prove that not only does humanity have something to offer, but that long-accepted beliefs against women, dark magic, and humanity itself can turn to understanding; that when people are at their worst that the best show their true strength, and that love can hold the world together as a new balance is found
I don't usually double-back and read prequels, but after finishing the newest Hollows book I wanted more, so I picked this up. And I'm glad I did!

The Turn is essentially the story of Trent's parents, Kal and Trisk, and the role they played in The Turn — where tomatoes became deadly to humans and the Interlanders began to reveal themselves to humankind. Since Trisk is referenced a lot in the newest book (American Demon), I was glad to read this and get a better idea of who she was and what she was capable of. We also get a younger version of Quen, which is a treat.

This is a worthwhile prequel, but you should read most of the Hollows series before you jump back to it — I think you will have a better understanding of the characters and politics that way.
Other reviews:
"Kim Harrison continues being one of my favorite urban fantasy authors. Her ability to creative vivid, complex and imperfect characters while weaving such a magical tale sucks me in every time. No matter what. I wasn't sure how THE TURN was going to be, but I should've just trusted her completely. It was riveting, interesting and eye opening." — Under the Covers Book Blog
"I loved getting to meet the faces behind the events that made up the basis of The Hollow series and also seeing some very familiar faces. Trisk is utterly brilliant in her makeup and showcases the strong and appealing heroines Harrison is famous for. Kal is an egotistical jerk who you will love to hate. Trisk and Kal's relationship is very similar to that of Rachel and Kal's son, Trent. Their antagonism is so prevalent in the story it is the fuel that powers everything." — Smexy Books
"In the end, I think this would be an emotionally frustrating book to read stand-alone, but a great addition to the Hollows series. We get to visit with familiar characters, see how they connect to the past, and get to watch the groundwork being laid for the future we know. " — One Book Two