2012: #2 – Moloka'i (Alan Brennert)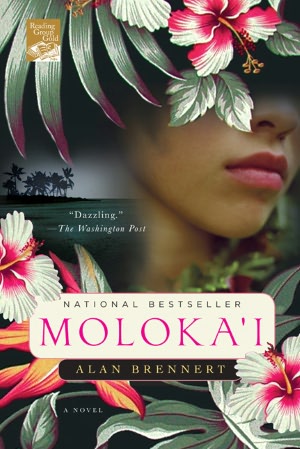 Title: Moloka'i
Author: Alan Brennert
Format: E-book
Pages: 400 (2012 total – 848)
Word Count: 136,404 (2012 total – 270,804)
Release Date: October 04, 2004
Publisher: St. Martin's Griffin
Categories: historical fiction (late 1800s, early 1900s)
Source: purchased
Rating: 5 out of 5

Back of the book:
This richly imagined novel, set in Hawai'i more than a century ago, is an extraordinary epic of a little-known time and place—and a deeply moving testament to the resiliency of the human spirit.

Rachel Kalama, a spirited seven-year-old Hawaiian girl, dreams of visiting far-off lands like her father, a merchant seaman. Then one day a rose-colored mark appears on her skin, and those dreams are stolen from her. Taken from her home and family, Rachel is sent to Kalaupapa, the quarantined leprosy settlement on the island of Moloka'i. Here her life is supposed to end—but instead she discovers it is only just beginning.

With a vibrant cast of vividly realized characters, Moloka'i is the true-to-life chronicle of a people who embraced life in the face of death. Such is the warmth, humor, and compassion of this novel that "few readers will remain unchanged by Rachel's story" (mostlyfiction.com).
My thoughts:
When we first meet Rachel, it's 1891 and she's a seven-year-old helping her mother make poi. At this point, none of them have an idea of the changes their family will go through. It begins with her uncle being tracked down and taken away because he has the "separating sickness". It is leprosy, and it is taken very seriously, because Hawaiians are particularly susceptible. When Rachel's mother discovers a red spot on Rachel's leg with no feeling, she knows what is going to happen. She tries to hide it, but her efforts are in vain as Rachel is taken away to be evaluated. They'll never be together again.
I thought this was a fascinating book. Not only do you get a bit of Hawaiian history before Hawaii was part of the U.S., you get to see a really unusual side of it. I had no idea that leprosy was such a problem in Hawaii, nor did I know the lengths the government went through to prevent its spread. They took the sick, young and old alike, and isolated them in an island community stuck in time. Not only are they not allowed physical contact with any of the non-infected (other than the nuns caring for them), their families are often shunned as "unclean" and forced to make difficult decisions. The lepers are assigned a place to live and then expected to make a life for themselves — however long it may be.
The book is wonderfully written, showing us Rachel's story from multiple points of view. Rachel is relatively lucky. Her form of the disease is the less disfiguring one, so she is able to build some semblance of a normal life. So normal, in fact, that I often wondered how the book would be different if she had the more severe form. Not that she didn't suffer; in fact, she probably suffered more than most, because she had to lose so many close friends. Brennert shows us a full range of emotion, from anger, to acceptance, to guilt, to hope, to happiness, and despair.
And, in a way, we also get a history of leprosy. During Rachel's lifetime there are many medical breakthroughs, some more successful than others. We see not only what the treatments are, but how they affected people.
For me, there's one thing more than anything else that tells me I've read a great piece of historical fiction: I go straight to Wikipedia to read about what really happened. Some characters in the book are based on real people, but Rachel is an amalgam. Moloka'i is a real place, and in fact, the parts of the island where the lepers were housed are now a National Historic Park. It is still an active leper colony, and you can visit by arranging for a guided tour. The only way into these parts is on the back of a donkey.
I highly recommend Moloka'i. Can ya tell?
Available from: Amazon | Barnes & Noble | IndieBound | WorldCat
Other reviews:
"Rachel Kalama is a protagonist anyone would root for." – Reading on a Rainy Day
"If you are on the fence of devoting yourself to 400 page story about leprosy, I urge you to pick this book up and read it." – Bippity Boppity Book
"I would recommend Moloka'i to fans of historical fiction, books with plenty of pathos, and strong female protagonists." – the quiet voice
Past reviews:
2011: Star Island (Carl Hiaasen)
2010: Shogun (James Clavell)
2009: Skin Tight (Carl Hiaasen)
2008: The Indictment (Barry Reed)
2007: True Colors (Doris Mortman)
2006: Cyclops (Clive Cussler)
2005: Naked in Death (J.D. Robb)