2011: #73 – Dead Beat (Jim Butcher)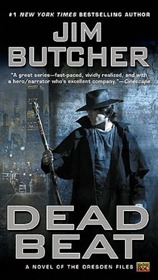 Book #73 was Dead Beat, the seventh book in Jim Butcher's Dresden Files. The back of the book reads:
Harry Dresden must save Chicago from black magic and necromancy — but first, he must locate the Word of Kemmler. Just as soon as he figures out what that is. It's all in a day's work for the city's only professional wizard … assuming he can live to see the end of the day.
I listened to this WAY back around Halloween, when zombies were timely. Thankfully, there's really no wrong time to listen to a Harry Dresden book.
When the book opens, Harry has found himself in a bit of a weird place in his life. His newly-discovered half-brother is still sleeping on his couch, one of his hands is essentially non-functional, and Murphy is jetting off to Hawaii with none other than the mercenary Kincaid. Harry is still dealing with that last piece of news when vampire queen Marva pays him a visit and saddles him with a nasty piece of blackmail: if Harry doesn't find a mysterious book called the Word of Kemmler, Marva will frame Murphy for murder.
It's hard to define what follows as anything other than a "romp". Harry is chased throughout the city by various unknown wizards and various undead things. With him is the medical examiner Waldo Butters, who is in danger because he has unwittingly learned too much. And they are on the clock, because the big bad is going down on Halloween. Harry once again is at the end of his rope and frankly, this ending is one of the most entertaining in the series.
I like to read about Harry's personal life as much as his magical one, and I was glad that he had a bit of a love interest other than Murphy in this book (though he continues to feel conflicted about her). It's too bad that his new lady wasn't quite what she appeared to be.
I have especially enjoyed this series since I switched over to listening to the audiobooks. If this is a series you have been the slightest bit lukewarm about, I really recommend them.
Other reviews:
Fangs For The Fantasy: Review: Dead Beat by Jim Butcher, Book 7
Dead Beat (The Dresden Files) by Jim Butcher : Book Review
Bitten by Books » Dead Beat by Jim Butcher
What Cheesy Reads: Dead Beat by Jim Butcher
Audiobook length: 15 hrs 14 min | Word count: 144,413 ('11 total: 7,234,048)
2010: Metro Girl (Janet Evanovich)
2009: Naamah's Kiss (Jacqueline Carey)
2008: Undead and Unwed (MaryJanice Davidson)
2007: Something From the Nightside (Simon R. Green)
2006: The Penultimate Peril (Lemony Snicket)
2005: Cause of Death (Patricia Cornwell)