2016: Did You Ever Have a Family (Bill Clegg)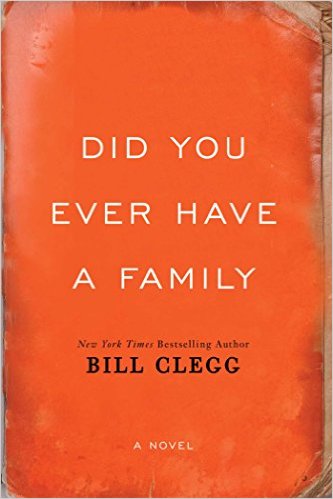 Did You Ever Have A Family
Literary Fiction
Simon and Schuster
September 1, 2015
304

The stunning debut novel from bestselling author Bill Clegg is a magnificently powerful story about a circle of people who find solace in the least likely of places as they cope with a horrific tragedy.
On the eve of her daughter's wedding, June Reid's life is completely devastated when a shocking disaster takes the lives of her daughter, her daughter's fiancé, her ex-husband, and her boyfriend, Luke—her entire family, all gone in a moment. And June is the only survivor.
Alone and directionless, June drives across the country, away from her small Connecticut town. In her wake, a community emerges, weaving a beautiful and surprising web of connections through shared heartbreak.
From the couple running a motel on the Pacific Ocean where June eventually settles into a quiet half-life, to the wedding's caterer whose bill has been forgotten, to Luke's mother, the shattered outcast of the town—everyone touched by the tragedy is changed as truths about their near and far histories finally come to light.
Elegant and heartrending, and one of the most accomplished fiction debuts of the year, Did You Ever Have a Family is an absorbing, unforgettable tale that reveals humanity at its best through forgiveness and hope. At its core is a celebration of family—the ones we are born with and the ones we create.

This was a really great book. It is kicked off by a terrible tragedy, but the rest of it is beautiful. I loved how the story is woven through many different points of view, even through people who are only involved in the most peripheral way. It also travels through time, revealing the entire picture one tiny piece at a time.
It's less about what actually happened to June's family, and more about how people handle grief, revelation, and forgiveness. It's full of tiny pieces of kindness, things, like a thermos of soup, that shouldn't make a difference but actually do.
I feel like I should say so much more, but I read it a few months ago and it's not as fresh in my mind as it was. But it's definitely a book I would recommend to anyone. Perhaps my favorite this year.
Other reviews:
"Suffice it to say that all of the characters are interesting in their own right, and that there is much to think about concerning families, grief, guilt, and redemption." — Booking Mama
"'Did You Ever Have a Family' is a quietly understated and often affecting novel. However, I think it is one where the characters are likely to blur in my memory rather than remain crystal clear." — A Little Blog of Books
"But it turns out Did You Ever Have a Family moved me not because of the book itself, but in ways it resonated with thoughts that had already haunted me, and which continue to haunt me." — Supposedly Fun