2016: Dissolution (C.J. Sansom)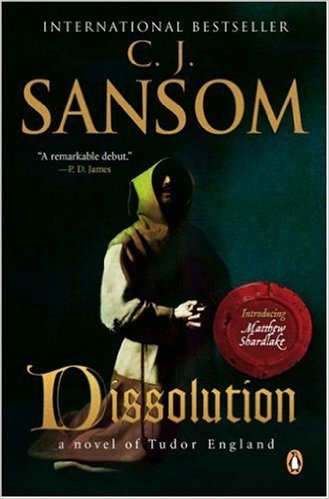 Dissolution
Matthew Shardlake #01
Historical Mystery
Penguin
April 1, 2004
416

Dissolution is an utterly riveting portrayal of Tudor England. The year is 1537, and the country is divided between those faithful to the Catholic Church and those loyal to the king and the newly established Church of England. When a royal commissioner is brutally murdered in a monastery on the south coast of England, Thomas Cromwell, Henry VIII's feared vicar general, summons fellow reformer Matthew Shardlake to lead the inquiry. Shardlake and his young protégé uncover evidence of sexual misconduct, embezzlement, and treason, and when two other murders are revealed, they must move quickly to prevent the killer from striking again.
A "remarkable debut" (P. D. James), Dissolution introduces a thrilling historical series that is not to be missed by fans of Wolf Hall and Bring Up the Bodies.
Having never read C.J. Sansom, I wasn't sure what to expect when I picked up this book. But a mystery set in Henry VIII's England, with a middle-aged, hunchbacked lawyer at its center? Count me in!
The event that forms the background of the investigation is the systematic dissolution of Catholic monasteries throughout England. Shardlake is not only there to investigate his predecessor's death, but to find a reason for Cromwell to dissolve the monastery and take its riches for the king.
Shardlake is not your usual investigator. He is not detached, or systematic. In fact, his feelings get very involved in his investigation. Especially troublesome are his feelings of envy of his protege and ward, young and handsome Mark. The investigation goes in many directions, sometimes too many, but the end result was satisfying.
I thought an interesting touch was the weather and terrain keeping the monastery very isolated from the politics that overwhelm most Tudor-era novels. It's still a part of the backdrop, but not a part of the day-to-day workings.
This is a series I'd like to continue!
Other reviews:
"Like all good murder mysteries Dissolution has great  pacing that knows when to ebb and flow, when to push up the action and when to allow natural paranoia to seep in." — Preludes' Blog of Words
"The plot is superb; beautifully impenetrable but perfectly reasonable in retrospect." — Juxtabook
"Dissolution is a great read. It's enjoyable from start to finish, and makes the sixteenth century come to life on the pages." — I Heart Reading