2016: Only Love Can Break Your Heart (Ed Tarkington)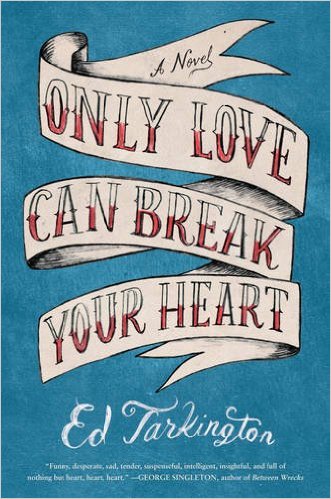 Only Love Can Break Your Heart
by
Ed Tarkington
Published by
Algonquin Books
on January 5, 2016
Genres:
literary fiction
Pages:
320


"Love can make people do terrible things."
Welcome to Spencerville, Virginia, 1977. Eight-year-old Rocky worships his older brother, Paul. Sixteen and full of rebel cool, Paul spends his days cruising in his Chevy Nova blasting Neil Young, cigarette dangling from his lips, arm slung around his beautiful, troubled girlfriend. Paul is happy to have his younger brother as his sidekick. Then one day, in an act of vengeance against their father, Paul picks up Rocky from school and nearly abandons him in the woods. Afterward, Paul disappears.
Seven years later, Rocky is a teenager himself. He hasn't forgotten being abandoned by his boyhood hero, but he's getting over it, with the help of the wealthy neighbors' daughter, ten years his senior, who has taken him as her lover. Unbeknownst to both of them, their affair will set in motion a course of events that rains catastrophe on both their families. After a mysterious double murder brings terror and suspicion to their small town, Rocky and his family must reckon with the past and find out how much forgiveness their hearts can hold.
This book grabbed me, pretty much from the beginning. Rocky is a young boy who idolizes his cool older brother, even when it seems like things aren't going so well for him. Even when he abandons Rocky in the woods. Even when he disappears, his high school girlfriend along for the ride.
Rocky is left to grow up in his small Virginia town without him, with his aging father and young mother, and some neighbors that he is a little too curious about. Especially the daughter, who is definitely too old for the teenager.
And then there's the murder. And that's when my spidey sense began to tingle.
The further I read, the more I realized the inspiration for Tarkington's debut novel. The bones of the mystery belong to a well known murder case in Bedford County, Virginia. I won't go into more specifics, because I don't want to spoil anything for anyone that doesn't want to be spoiled. But the deeper I got into it, the more I recognized it, thanks to being a bit of a true crime TV junkie. And even though I was then able to figure out the secret, I wasn't upset at all. Frankly, I was tickled that I recognized it, and I'm rather surprised I haven't seen it mentioned in any other reviews of the book.
But regardless of the spark of inspiration, this was a solid novel. Music fans will pick up on a lot of references, but everyone else can just enjoy a story that at its core is about family and the unbreakable bonds it can create.
Other reviews:
"I really enjoyed this book, and thought Tarkington did a terrific job making you care about the characters." — It's Either Sadness or Euphoria
"I loved the focus on the imperfect bond between brothers and the healthy dose of the type of teenage boy hijinks that went on before the world became more uptight." — Sarah's Book Shelves
"To top it all, what makes this book really memorable is the flawless storytelling of the author. I could have continued reading two hundred pages more and I wouldn't have noticed." — luxury reading