2016: Complicit (Nicci French)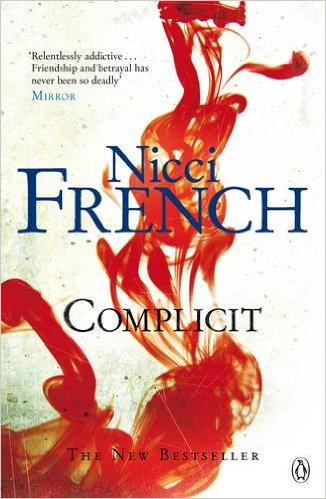 Complicit
by
Nicci French
Published by
Penguin
on March 17th 2011
Genres:
psychological thriller
Pages:
370


Also by this author:
Blue Monday
Who is more deadly? An enemy? A friend? Or a lover? Bonnie Graham is in her friend's flat. She is alone, except for the dead body lying in a pool of blood. What happened? What will she do? And is any or all of it her fault? Bonnie is a music teacher who has spent a long, hot summer in London rehearsing with a band. It was supposed to be fun, but the tricky knots of the band's friendships unravel with each passing day. What was meant to be a summer of happiness, music and love turns deadly as lovers betray, passions turn homicidal and friendship itself becomes a crime. Someone in the band must be a killer. Is it Bonnie? And if not - who is it?
This is only my second Nicci French book, but I've already noticed a pattern: girl falls unexpectedly for man who is not good for her. Bad things ensue.
However, that doesn't mean this book was the same as the first. There's a unique structure here. The book opens with Bonnie and a dead body; after that, the chapters alternate between before the event and after. In the before, Bonnie is putting together a rag-tag band (literally, a music band) to play at a friend's wedding. In the after, Bonnie is dealing with the aftermath of the death and what she chose to do about it.
I ended up with mixed feelings about this book. I wasn't particularly drawn to any of the characters. I was more frustrated with Bonnie than worried about her or supportive of her. But then something interesting happened. Just as I was starting to get bored with the story and thought I knew exactly where it was going, bam! Everything changed, and I got sucked back in.
So if you don't mind not loving the characters, it's worth a read!
Note: In the US, Complicit was published as The Other Side of the Door.
Other reviews:
"It instead doesn't depend on the characters, but it is the incredibly well constructed plot that keeps the reader turning the pages; it is in this way that French manages to captivate the reader in this deadly book!" — my little book blog
"It's very clever indeed and just when we believe everything – somehow or other – has worked through its devious paths of complexity to a reasonable and relatively straightforward conclusion, a throwaway comment or two on that final page might possibly make the reader think again – or does it?" — Vulpes Libris
"But, as ever with a Nicci French book, all is not as it seems. Just when you think you've got a handle on the story and know where it is most likely headed, a new bit of information comes to light that turns everything upside down." — Reading Matters