2016: Scarlet (Marissa Meyer)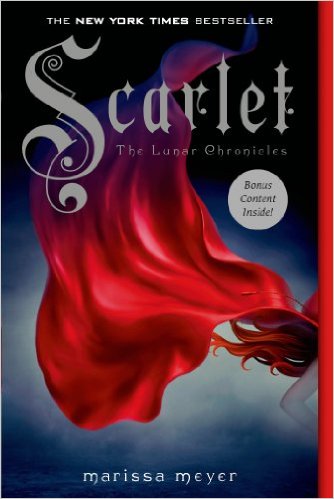 Scarlet
by
Marissa Meyer
Series:
The Lunar Chronicles #02
Published by
Square Fish
on February 4th 2014
Genres:
y/a science fiction/dystopian
Pages:
452


Also by this author:
Cinder
,
Cress
,
Winter
Also in this series:
Cinder
,
Cress
,
Winter
Cinder is back and trying to break out of prison—even though she'll be the Commonwealth's most wanted fugitive if she does—in this second installment from Marissa Meyer.
Halfway around the world, Scarlet Benoit's grandmother is missing. It turns out there are many things Scarlet doesn't know about her grandmother, or the grave danger she has lived in her whole life. When Scarlet encounters Wolf, a street fighter who may have information as to her grandmother's whereabouts, she is loath to trust this stranger, but is inexplicably drawn to him, and he to her. As Scarlet and Wolf unravel one mystery, they encounter another when they meet Cinder. Now, all of them must stay one step ahead of the vicious Lunar Queen Levana.
I picked this up rather quickly after finishing Cinder, because I enjoyed Cinder so much. Unfortunately, I didn't think Scarlet was as strong of a story.
I think the main thing Scarlet has going against it is that there are two focuses to the story. First, you have the further adventures of Cinder and Kai, moving the overarching plot forward. Second, you have the new story, centered around Scarlet and Wolf (as in Little Red Riding Hood).
Scarlet is a farmer who lives with her grandmother in the French countryside. But unfortunately, her grandmother has gone missing and no one seems to want to do anything about it. So Scarlet takes matters into her own hands, helped by the mysterious Wolf.
Of course, Scarlet's story ends up intertwining with Cinder's. We learn some things that I had already guessed, but it was nice to have them confirmed. I think my main issue was that I just didn't get enough time to know Scarlet before I was thrown into the action and expected to root for her.
Other reviews:
"I am rating this book at 5: Excellent and Worth Every Minute. I wasted NO time in reading this just after I finished Cinder." — Heatheraine Trim's Blog
"So, in conclusion, even though I liked Cinder more, Scarlet was still a fun and exciting read." — Cuddlebuggery
"As for me, although I was not impressed with the series thus far, each book for slightly different reasons, I know I will probably still read the next book, hoping it will change my mind." — a novel toybox