2021: #56 – Malice (Keigo Higashino)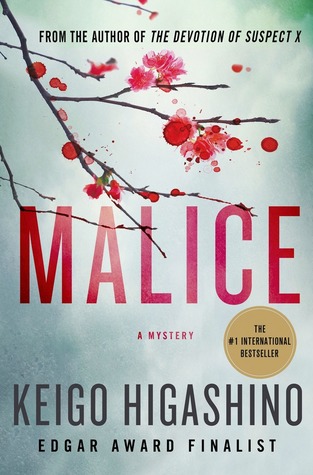 Malice
by
Keigo Higashino
Series:
Detective Kaga #01
Published by
Minotaur Books
on October 7, 2014
Genres:
mystery
Pages:
288


Also by this author:
The Devotion of Suspect X
Acclaimed bestselling novelist Kunihiko Hidaka is found brutally murdered in his home on the night before he's planning to leave Japan and relocate to Vancouver. His body is found in his office, a locked room, within his locked house, by his wife and his best friend, both of whom have rock solid alibis. Or so it seems.

At the crime scene, Police Detective Kyoichiro Kaga recognizes Hidaka's best friend, Osamu Nonoguchi. Years ago when they were both teachers, they were colleagues at the same public school. Kaga went on to join the police force while Nonoguchi eventually left to become a full-time writer, though with not nearly the success of his friend Hidaka.

As Kaga investigates, he eventually uncovers evidence that indicates that the two writers' relationship was very different that they claimed, that they were anything but best friends. But the question before Kaga isn't necessarily who, or how, but why. In a brilliantly realized tale of cat and mouse, the detective and the killer battle over the truth of the past and how events that led to the murder really unfolded. And if Kaga isn't able to uncover and prove why the murder was committed, then the truth may never come out.

Malice is one of the bestselling—the most acclaimed—novels in Keigo Higashino's series featuring police detective Kyoichiro Kaga, one of the most popular creations of the bestselling novelist in Asia.
This twisty mystery from Japanese author Higashino is the 4th in a series (1st translated to English) but can be read as a standalone. Bestselling author Kunihiko Hidaka has been found dead in his office. The office is locked, the house is locked, and most of their belongings have already been moved to their new home in Canada. So who could have done it, and why? Three people were the last two see him: his wife Rie; a woman who is suing Hidaka over the contents of one of his books; and his best friend, Osamu Nonoguchi.

Detective Kyoichiro Kaga, a former colleague of Nonoguchi's, is on the case. The narrative switches between Kaga's point of view and Nonoguchi's, as Kaga struggles to unravel the mystery and find the truth behind what happened. Is this about Hidaka's present, or his past?

This story is very well woven, if a little stilted in its translation. I have found that a lot of Japanese translations end up feeling that way, I think it's just a cultural difference. Regardless, the journey we're taken on does not go where we're expecting, and I found the reveal to be quiet satisfying. 
I read this for the following reading challenge:
Other reviews:
"Overall, this book was a pleasant surprise to read. It is slightly slow-moving, and don't expect to find a fast-paced thriller in this book. Saying that, it's well-written, surprisingly complex for how simple the story actually is, and it was fascinating to read. If you are a fan of psychological mysteries, I highly recommend this book!" — Anne with a Book
"I have mixed feeling for this books. On one hand, I feel that it is a great book with a clever story, engaging twists and turns, and interesting characters. On the other hand, it was a bit disappointed too as I had really high expectations from the author – the other two books are master pieces and this is certainly not in the same league as Devotion of Suspect X and Salvation of a Saint." — Ashutosh's Blog
"I wouldn't necessarily rank this one on the same level as The Devotion of Suspect X, but as a tightly written, difficult-to-guess, don't-take-anything-on-face-value crime novel, Malice is a terrific — and totally addictive — read." — Reading Matters