2017: #20 – The Almost Sisters (Joshilyn Jackson)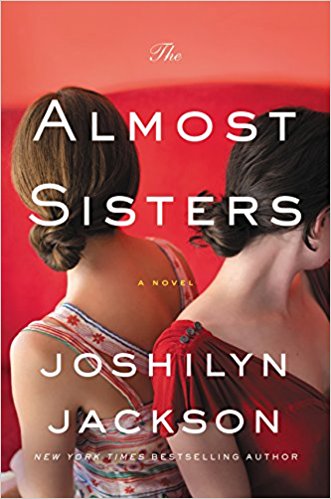 The Almost Sisters
by
Joshilyn Jackson
Published by
William Morrow
on July 11th 2017
Genres:
women's fiction
Pages:
352


With empathy, grace, humor, and piercing insight, the author of Gods in Alabama pens a powerful, emotionally resonant novel of the South that confronts the truth about privilege, family, and the distinctions between perception and reality - the stories we tell ourselves about our origins and who we really are.

Superheroes have always been Leia Birch Briggs' weakness. One tequila-soaked night at a comics convention, the usually level-headed graphic novelist is swept off her barstool by a handsome and anonymous Batman.

It turns out the caped crusader has left her with more than just a nice, fuzzy memory. She's having a baby boy - an unexpected but not unhappy development in the thirty-eight year-old's life. But before Leia can break the news of her impending single-motherhood (including the fact that her baby is biracial) to her conventional, Southern family, her step-sister Rachel's marriage implodes. Worse, she learns her beloved ninety-year-old grandmother, Birchie, is losing her mind, and she's been hiding her dementia with the help of Wattie, her best friend since girlhood.

Leia returns to Alabama to put her grandmother's affairs in order, clean out the big Victorian that has been in the Birch family for generations, and tell her family that she's pregnant. Yet just when Leia thinks she's got it all under control, she learns that illness is not the only thing Birchie's been hiding. Tucked in the attic is a dangerous secret with roots that reach all the way back to the Civil War. Its exposure threatens the family's freedom and future, and it will change everything about how Leia sees herself and her sister, her son and his missing father, and the world she thinks she knows.
Joshilyn Jackson has long been on my "to read" list, but this is the first book of hers that I've actually gotten around to picking up. And I loved it.
There was so much in the book that spoke to me… from a woman experiencing a pregnancy at an "advanced" age, to the trickiness of navigating life in a small town, to having a grandparent that you're extremely close to going through medical issues. Jackson brings it all to us through the eyes of Leah, a 38-year-old comic book artist who is unexpectedly pregnant by a man she doesn't know. When Leah discovers that her grandmother has been hiding some extreme health issues from her, she picks up her life and goes back to small-town Alabama to stay with her and convince her to get help. Along for the ride is her 13-year-old niece, who is escaping a bit of life drama of her own.
I loved how Jackson portrays the relationships between the women, the difficulty of trying to help an elderly relative, and the frustration of having family keep secrets from you. There is often so much that is hidden just beneath the surface, but it rarely stays hidden forever. The story also confronts the issue of lingering racism in the South — sometimes hidden, sometimes blatant — as Leah faces the prospect of bringing a biracial child into the world.
Joshilyn Jackson will definitely be staying on my "to read" list! This was easily my favorite read of 2017.
Other reviews:
"If you enjoy southern fiction that is well done and so much more than shallow cliches, I would HIGHLY recommend picking up The Almost Sisters." — The Suspense is Thrilling Me
"Joshilyn Jackson is an author not to be missed. As with her other books, her main female characters, who span generations, are delightful: full of spit and vinegar, loyalty to friends and family, and an underlying goodness." — Rhapsody in Books Weblog
"This is a messy book full of all manner of human emotions; love, lust, hate, and forgiveness among others. That is what made it such an engaging read for me. It tackles some big issues and makes you think." — Broken Teepee