2017: #4 – It Ends With Us (Colleen Hoover)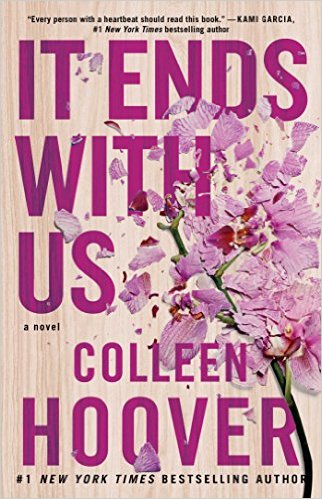 It Ends with Us
by
Colleen Hoover
Published by
Atria Books
on August 2nd 2016
Genres:
new adult
Pages:
376


Also by this author:
Verity
Sometimes it is the one who loves you who hurts you the most.

Lily hasn't always had it easy, but that's never stopped her from working hard for the life she wants. She's come a long way from the small town in Maine where she grew up—she graduated from college, moved to Boston, and started her own business. So when she feels a spark with a gorgeous neurosurgeon named Ryle Kincaid, everything in Lily's life suddenly seems almost too good to be true.

Ryle is assertive, stubborn, maybe even a little arrogant. He's also sensitive, brilliant, and has a total soft spot for Lily. And the way he looks in scrubs certainly doesn't hurt. Lily can't get him out of her head. But Ryle's complete aversion to relationships is disturbing. Even as Lily finds herself becoming the exception to his "no dating" rule, she can't help but wonder what made him that way in the first place.

As questions about her new relationship overwhelm her, so do thoughts of Atlas Corrigan—her first love and a link to the past she left behind. He was her kindred spirit, her protector. When Atlas suddenly reappears, everything Lily has built with Ryle is threatened.
This book fell solidly into the "eh, it was okay" category for me. I'm not familiar with Colleen Hoover, but she appears to have quite a following. If you look around, you'll see a LOT of 5 star reviews for this book. But it just didn't do it for me.
First, the male lead's name kept pulling me out of the story. Ryle. Is it pronounced "ry-lee"? Or like "kyle"? Either way, my brain went back and forth every time I read the name and completely distracted me.
We won't even discuss the ridiculousness of Lily Bloom who wants to open a flower shop. Insert appropriate eye-roll here.
This is essentially a romance with some unhealthy parental relationships, homelessness, and domestic abuse tossed in. It's a lot. There are a lot of coincidences throwing people together and a lot of problems telegraphed, making the author's hand feel very heavy. And the ending was too pat by several magnitudes. Though I guess Lily makes the right decision in the end.
I don't mind picking up a New Adult book from time to time, but I don't think I'll be rushing to get more of Hoover's.
Other reviews:
"I was unable to put it down from the moment I started reading and I know that this is one of those profoundly beautiful and unforgettable stories that will stay with me for a long time." – Aestas Book Blog
"It's funny. It's sweet. It's scary (for me… at times terrifying). It's intense. It's profound. And you WILL fall in love." – Maryse's Book Blog
"I do NOT like books that manipulate me. I do NOT like authors who think it teaches life lessons by making everything literally the WORST scenario possible." – Star-Crossed Book Blog