2006: #36 – The Mummy Case (Elizabeth Peters)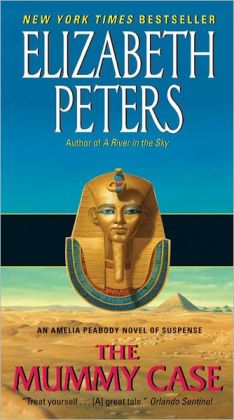 The Mummy Case
by
Elizabeth Peters
Series:
Amelia Peabody #03
Published by
Harper
on February 22, 2011
Genres:
hf - victorian
,
historical fiction
,
historical mystery
Pages:
404


Also by this author:
Seeing a Large Cat
,
The Curse of the Pharaohs
Also in this series:
Seeing a Large Cat
,
The Curse of the Pharaohs
Radcliffe Emerson, the irascible husband of fellow archaeologist and Egyptologist Amelia Peabody, has earned the nickname "Father of Curses"—and at Mazghunah he demonstrates why. Denied permission to dig at the pyramids of Dahshoor, he and Amelia are resigned to excavating mounds of rubble in the middle of nowhere. And there is nothing in the barren area worthy of their interest—until an antiquities dealer is murdered in his own shop. A second sighting of a sinister stranger from the crime scene, a mysterious scrap of papyrus, and a missing mummy case have all whetted Amelia's curiosity. But when the Emersons start digging for answers in an ancient tomb, events take a darker and deadlier turn—and there may be no surviving the very modern terrors their efforts reveal.
Book #36 was The Mummy Case , the 3rd book in Elizabeth Peters' Amelia Peabody series.
This is me trying to fill in the holes in this series. I had picked up the next book in the series that I owned, and realized that too much had happened that I wasn't aware of. So, I'm actually visiting the library. Will wonders ever cease?
However, I had a harder time getting through this one. I don't know if it's because the writing is more refined later in the series, or if I had just reached my limit of Amelia Peabody books for the time being.
Book count: 36
Pages in book: 336
Page count: 14,477
Words in book: 99,986
Word count: 4,115,460
1,000,000 words surpassed — 2/2/06
2,000,000 words surpassed — 2/14/06
10,000 pages surpassed — 3/10/06
3,000,000 words surpassed — 3/16/06
4,000,000 words surpassed — 4/3/06