2017: #3 – Into the Darkest Corner (Elizabeth Haynes)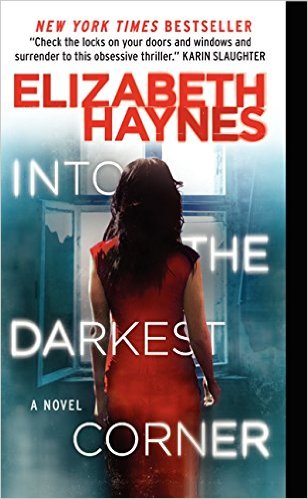 Into the Darkest Corner
by
Elizabeth Haynes
Published by
Harper
on August 27th 2013
Genres:
psychological thriller
Pages:
416


When young, pretty Catherine Bailey meets Lee Brightman, she can't believe her luck. Gorgeous, charismatic, and a bit mysterious, Lee seems almost too perfect to be true.

But what begins as flattering attention and spontaneous, passionate sex transforms into raging jealousy, and Catherine soon discovers that Lee's dazzling blue eyes and blond good looks hide a dark, violent nature. Disturbed by his increasingly erratic, controlling behavior, she tries to break it off; turning to her friends for support, she's stunned to find they don't believe her. Increasingly isolated and driven into the darkest corner of her world, a desperate Catherine plans a meticulous escape.

Four years later, Lee is behind bars and Catherine—now Cathy—is trying to build a new life in a new city. Though her body has healed, the trauma of the past still haunts her. Then Stuart Richardson, her attractive new neighbor, moves in. Encouraging her to confront her fears, he sparks unexpected hope and the possibility of love and a normal life.

Until the day the phone rings . . .
This book was a chilling portrait of an abusive relationship and its aftermath. When Catherine meets Lee, she effortlessly lets him in to her life. Sure, he doesn't talk much and his job is mysterious and sometimes he disappears for days at a time, but he's handsome and a good lover and all of her friends are jealous, so what's the harm, right?
But four years later, Cathy is a mess. Her life is filled with completing her obsessive rituals and panic attacks. She is constantly in fear, and trusts no one, even the seemingly nice man who moves in upstairs. Even as he tries to help her with her OCD, the trust is slow to develop. And then a phone call ruins everything.
What exactly happened to Catherine/Cathy is a story that is unfolded through the course of the novel. It bounces back and forth in time, giving us a complete picture of what she endured.
I thought this was a really great read, and I look forward to reading more from this author!
Other reviews:
"I would definitely recommend this page-turner to all psychological thriller fans because it won't disappoint." — Breathing Through Pages
"99% of this novel is stellar and Haynes shows exceptional promise as a psychological thriller writer." — Jen's Book Thoughts
"It was deliciously creepy in the way that good suspense movies are." — Book Hooked Blog