2018: #3 – One Dark Throne (Kendare Blake)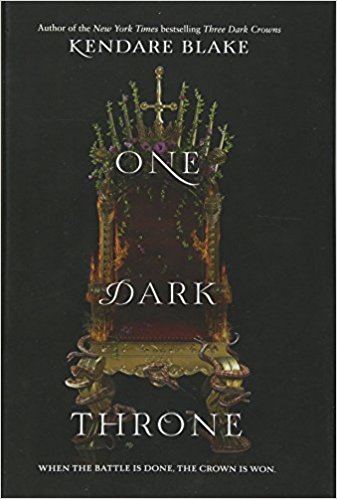 One Dark Throne
by
Kendare Blake
Series:
Three Dark Crowns #02
Published by
HarperTeen
on September 19th 2017
Genres:
y/a fantasy
,
young adult
Pages:
464


Also by this author:
Three Dark Crowns
Also in this series:
Three Dark Crowns
The battle for the crown has begun, but which of the three sisters will prevail?

With the unforgettable events of the Quickening behind them and the Ascension Year underway, all bets are off. Katharine, once the weak and feeble sister, is stronger than ever before. Arsinoe, after discovering the truth about her powers, must figure out how to make her secret talent work in her favor without anyone finding out. And Mirabella, the elemental sister once thought to be the certain Queen Crowned, faces attacks like never before—ones that put those around her in danger she can't seem to prevent.

Fennbirn's deadliest queens must confront the one thing standing in their way of the crown: each other.
I thought the first book in this series was dark, but somehow this one got darker. Our three triplet queens are now in their Ascension year, and are actively trying to kill each other to be the one remaining Queen to rule them all.
Well, mostly Katharine is trying to kill everyone. Mirabella and Arsinoe are very much in "can't we all get along and not do this whole killing thing?" territory. And after the events at the end of the first book, Katharine is certifiably off her rocker in this book. Not even her family really understands what she is doing. Mirabella is just keep on keepin' on, and Arsinoe is wondering what the heck her powers actually are.
After the sometimes slow buildup of the first book, this one is non-stop action. Katharine's murderous rampage is probably the most entertaining part, but I did enjoy some of the political machinations that are happening behind the scenes. By the end, you think things are going one way, and then everything gets turned on its head. And everyone important is still alive!
I really enjoyed this book, and I will definitely be continuing this series!
Side note: I listened to the audiobook (it's been SO LONG since I listened to an audiobook), and apparently "Arsinoe" is not at all pronounced like I expected. I eventually got used to it, but it threw me the first several times I heard it.
Other reviews:
"Revelations, betrayals and discoveries provided quite a few twists and turns along the way and, once again, there was an ending that leaves you on the edge of your seat waiting impatiently for the next installment." – Book Reviews by Di

"I LOVED ONE DARK THRONE. It was a well written, fast paced, dark magical adventure and one of the best fantasies I've read all year. 4.5 stars."  – A Thousand Words, A Million Books

"So much happens in this precious sequel. There is a lot of death. There is a lot of poison. A lot of hurt people. There is a big hunt, which broke my heart, yet was so amazing to read about." – Carina's Books