2018: #1 – The Queen of the Night (Alexander Chee)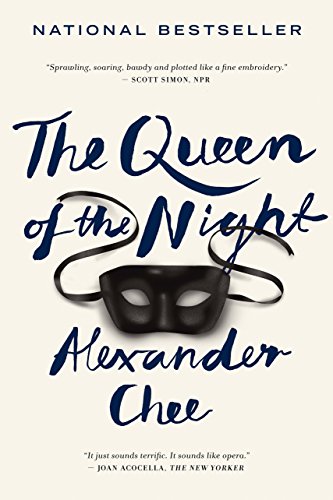 The Queen of the Night
by
Alexander Chee
Published by
Mariner Books
on November 1st 2016
Genres:
hf - biographical
,
historical fiction
Pages:
568


Lilliet Berne is a sensation of the Paris Opera, a legendary soprano with every accolade except an original role, every singer's chance at immortality. When one is finally offered to her, she realizes with alarm that the libretto is based on a hidden piece of her past. Only four could have betrayed her: one is dead, one loves her, one wants to own her. And one, she hopes, never thinks of her at all.

As she mines her memories for clues, she recalls her life as an orphan who left the American frontier for Europe and was swept up into the glitzy, gritty world of Second Empire Paris. In order to survive, she transformed herself from hippodrome rider to courtesan, from empress's maid to debut singer, all the while weaving a complicated web of romance, obligation, and political intrigue.

Featuring a cast of characters drawn from history, The Queen of the Night follows Lilliet as she moves ever closer to the truth behind the mysterious opera and the role that could secure her reputation -- or destroy her with the secrets it reveals.
The Queen of the Night is the story of Lilliet Berne, a woman who went from being an orphan in the American Midwest to one of the most famous opera singers in France during the Second Empire (mid- to late-1800s). Very few know her whole story, and when someone threatens her with revealing her secrets, she does all she can to find who they are.
The story bounces back and forth between the Lilliet of the present and the Lilliet of the past. Along the way she lives many lives — of a traveling circus performer, a courtesan, a kept woman, an Empress's maid, a famous opera singer. She is pulled into not only the intrigue of the opera, but the political intrigue surrounding the fall of Napoleon III. We learn about her life as she searches her past and tries to figure out who is threatening her with exposure.
I enjoyed this book, though I found it hard to follow at times. It often wasn't clear which time period you were in until you got some context clues. Also, I completely lost track of how old she was at the different times of her life… I ended up thinking she should have been much older than she is supposed to be. It often wasn't clear how much time had passed between one event and the next.
Also, Lilliet is a bit difficult to connect to. Though many tragic things happen to her, she often just picks up her skirts and moves on with nary an emotional response. Many people are left in her wake, and she just moves on with what appears to be little thought of how they may feel being left behind.
One thing I did appreciate is that the novel is structured much like a tragic opera, with emotional ups and downs. It's a bit of a time investment, but I recommend this for anyone who likes historical fiction and a time period/area of interest that is a bit out of the ordinary.
"Victory, defeat, victory, defeat, victory, defeat. Such is tragedy."
Other reviews:
"I was frequently enthralled reading "The Queen of the Night" just for the pleasure of its luscious detail and the finely-honed beauty of Chee's writing. This is a novel with thrilling adventure, intriguing insight and tremendous scope that brings a dramatic period of history fully to life." — Lonesome Reader
"I wanted to adore this book.  I had very high expectations.  Was the bar set too high from the beginning?  Maybe.  I still think this book is a worth while read if you enjoy historical fiction." — Cover2CoverMom
"This is an outstanding novel that I was constantly thinking about and aching to get back to when I was busy with other things. Give it a read, though set some time aside because it weighs in at close to 600 pages." — Plan to Happy