2020: #19 – Say You're Sorry (Karen Rose)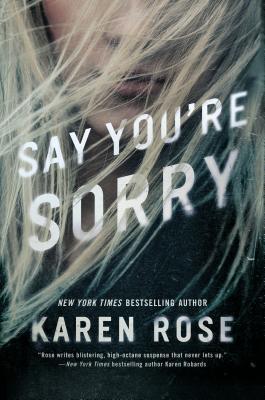 Say You're Sorry
by
Karen Rose
Published by
Berkley Books
on February 12, 2019
Genres:
romantic suspense
Pages:
614


Also by this author:
I Can See You
There is a serial killer on the loose, preying on vulnerable women. The only identifiable mark the killer leaves are letters—sometimes one, sometimes two—all carved into the torsos of his victims. Together they spell "Sydney."

When he grabs Daisy Dawson, he believes he has found his next victim. But despite her small stature, she fights back with an expertise that quickly frees her. Before fleeing the scene, Daisy also manages to grab what proves to be crucial evidence: a necklace from around the killer's neck.

The necklace is more than a trivial item—it is a link to a cold case that Special Agent Gideon Reynolds has been tracking for seventeen years. With Daisy's help, Gideon finally has the opportunity to get closer to the truth than ever before.

But they might not get the chance, as the serial killer has a new target: Gideon and Daisy.
I don't think I've ever read a bad Karen Rose novel.
Daisy Dawson is just walking home from her AA meeting, minding her own business, when she is grabbed by a masked man. Thankfully, her instincts and self-defense training kick in, and she is able to fight him off — but not before accidentally pulling a locket from around his neck that ends up being connected to another missing woman.
When Detective Rafe Sokolov (who happens to also be Daisy's landlord) sees the locket, he immediately calls his friend, FBI Agent Gideon Reynolds. Because he's seen the design on the locket before — on Gideon's chest — and thinks it may be a clue to the location of the cult Gideon escaped from when he was 13.
So you can see, there are a couple of different story lines here. First and primary is finding the serial killer who tried to take Daisy, but along the way Gideon is also trying to find the cult he escaped from, in hopes of saving the other children who are still there, trapped and abused, and of bringing justice to the men who run it.
Don't get me wrong — this isn't a great work of literature. There is a lot of sharing and rehashing of past traumas between Daisy and Gideon and some of the other characters. There's maybe a few too many characters, in that "this is a romance series so I need to set up the characters for the next books" way. But I find the rhythm and predictability of romantic suspense to be rather comforting, despite the dark subject matter. Karen Rose is a romantic suspense author I'll always pick up.
I read this for the PopSugar Reading Challenge this year — this book fulfilled the "book by an author with flora or fauna in their name" prompt.
Other reviews:
"In my opinion, Karen Rose is the queen of romantic suspense. She writes RS the way it should be, with an even balance between the romance and suspense. The plot is dark and believable, and one always gets their money's worth with one of KR's books. While her stories are usually pretty intense, and features disturbing content, and some violence, it is not too overly graphic." — Welcome to the Book Review
"I thought that all the characters in this book were well developed and memorable. I especially liked the main characters. One was dealing with staying sober, a federal agent who has a past he is ashamed of, a killer that I hate myself for feeling empathy for, and mysteries with twists that are worth waiting for! " — The Genre Minx Book Reviews
"Don't get me wrong, I'm happy for them and I'm glad Rose didn't invent stupid little emotional crises that would have cheapened their bond or them as characters, but their relationship seemed half-assed. It was more a convenient way to deliver exposition on the cult than anything. It felt like the romance didn't just take a backseat to the thriller plot, it was in the trailer hitched to the back." — No Apology Book Review