2019: #9 – Circe (Madeline Miller)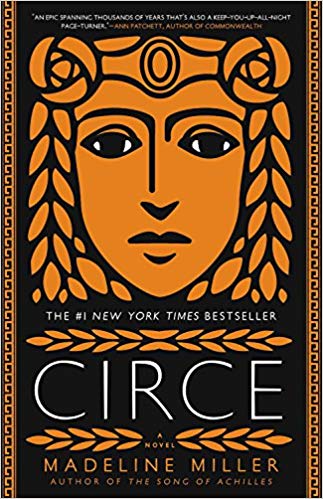 Circe
by
Madeline Miller
Published by
Little, Brown and Company
on April 10, 2018
Genres:
literary fiction
Pages:
393


In the house of Helios, god of the sun and mightiest of the Titans, a daughter is born. But Circe is a strange child—not powerful, like her father, nor viciously alluring like her mother. Turning to the world of mortals for companionship, she discovers that she does possess power—the power of witchcraft, which can transform rivals into monsters and menace the gods themselves.

Threatened, Zeus banishes her to a deserted island, where she hones her occult craft, tames wild beasts and crosses paths with many of the most famous figures in all of mythology, including the Minotaur, Daedalus and his doomed son Icarus, the murderous Medea, and, of course, wily Odysseus.

But there is danger, too, for a woman who stands alone, and Circe unwittingly draws the wrath of both men and gods, ultimately finding herself pitted against one of the most terrifying and vengeful of the Olympians. To protect what she loves most, Circe must summon all her strength and choose, once and for all, whether she belongs with the gods she is born from, or the mortals she has come to love.
I normally do not gravitate towards books that are centered around mythology or folklore, but my book club was reading this and I'd heard such great things about it that I decided to give it a fair shake.
Circe is the daughter of a god (Helios) and a nymph. She is often scored by her family and others in her home because she's just a little too plain, a little too uninteresting. Until the day she gets everyone's attention by unleashing her magic against another nymph that she sees as her romantic rival. This act earns her banishment, and she is sent to live out eternity on a deserted island.
The story follows Circe's life as she builds herself a home and an existence on her island among the flora and fauna and occasional visitors that those knowledgeable in mythology will easily recognize. Even I recognized more than a few, though some of the finer points of their stories were not known to me. I did get a little lost in all the names in the first part of the book, especially when it came to Circe's numerous siblings.
One of the highlights of the book for me was the depiction of Circe as a mother. Despite this story being about a goddess, I thought it contained one of the most accurate and harrowing depictions of mothering an infant and toddler that I've ever read.
Overall, I really enjoyed this, particularly in audiobook format. I will have to circle around and read Song of Achilles now.
Other reviews:
"I would seriously recommend it. Beautiful, elegant, poignant, accessible for Greek novices (like myself), and a literary treat." — Amy Talks Books
"Circe was more than just a meditation on gender or the life of a single goddess, it also tackled the questions about divinity and mortality. While these are reminiscent of the conflict which Achilles faced, Miller provided explored it from an entirely different angle here. Circe is a goddess who will make you treasure your mortality." — Read at Midnight
"I know this is a bit of a shorter review but I honestly cannot think of what else to say, this book is truly worth picking up and I feel like even if I wrote pages upon pages of words for this review they still wouldn't be able to do 'Circe' justice." — The Sassy Book Geek