2020: #2 – Big Fat Manifesto (Susan Vaught)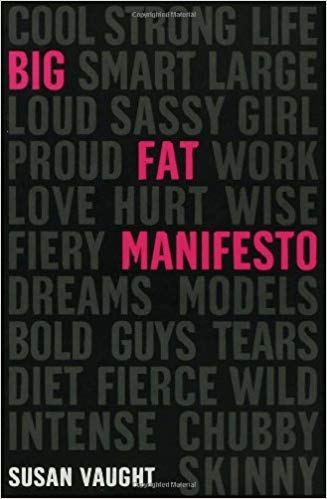 Big Fat Manifesto
by
Susan Vaught
Published by
Bloomsbury USA Children's
on December 26, 2007
Genres:
young adult
Pages:
308


Jamie is a senior in high school and, like so many kids in that year, doing too much-including trying to change the world-and fighting for her rights as a very fat girl. And not quietly: she's writing a column every week in the paper with her thoughts and fears and gripes. As her column raises all kinds of questions, so too, must she find her own private way in her world, with love popping up in an unexpected place, and satisfaction in her size losing ground to real frustration. Tapping into her own experience losing weight, her training as a psychotherapist, and the current fascination in the media for teens who are trying drastic weight-loss measures including surgery, Susan Vaught's searing and hilarious prose will grip readers of all sizes, leaving them eager to hear more.
Jamie is fat. She knows it, everyone else knows it, and soon even more people are going to know it because her plan for getting into the journalism program she wants to attend is to write a column about being a fat teenager. Except things get complicated when her also overweight boyfriend decides to get gastric bypass surgery.
There are pros and cons to this book. Outwardly, Jamie is unapologetic about her weight and the difficulties it causes in her life. But inside, she's still a typical insecure teenager with very complicated feelings. There's a little bit of push and pull there. She's not very good at treating her friends/boyfriend well, which is a con. Other people's concerns seem to take a back seat to hers. Activism is also treated strangely — when it aligns with her goals, she's all for it, but you can almost see the eye rolls every time her friend NoNo (who is fiercely vegan) is discussed.
I enjoyed the read, despite its flaws. But I think there are probably better "fat positive" books out there.
I read this for the PopSugar Reading Challenge this year, and this book fulfilled the "book with only words on the cover, no images or graphics " prompt.
Other reviews:
"Big Fat Manifesto is a very well-written, empowered, and engaging book that really does bring to light some important issues. Even if I don't necessarily agree with Jamie's take on everything, it's definitely interesting and thought-provoking." — curled up with a good (kid's) book
"I found Jamie's voice to be utterly compelling and I thought her dealing with her boyfriend's new body was a really interesting conflict. Jamie's raw and in-your-face and sometimes she doesn't always think things through, but that felt so real to me." — Abby the Librarian
"I loved almost everything about Big Fat Manifesto. However, if Big Fat Manifesto has a weakness then it is in the character development of minor characters." — Becky's Book Reviews