2020: #1 – An Easy Death (Charlaine Harris)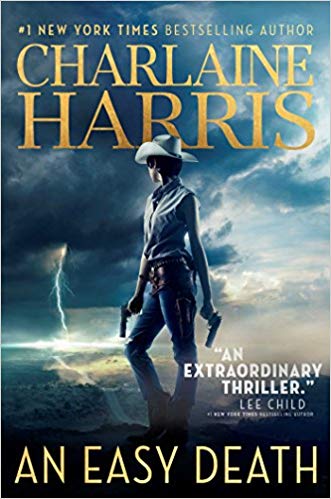 An Easy Death
by
Charlaine Harris
Series:
Gunnie Rose #01
Published by
Saga Press
on October 2, 2018
Genres:
alternate history
,
fantasy
,
western
Pages:
306


In a new trilogy that presents a chilling alternate history of the United States where everyone believes in magic—but no one is sure whether they can trust it.

Gunnie Lizbeth Rose has been hired by a pair of Russian sorcerers as both their local guide and muscle through the small towns of East Texas as they search for a distant relative of an infamous sorcerer whose bloodline can help save their emperor-in-exile as an ever-increasing number of assassins tries to stop them.

After the assassination of FDR in the 1930s, the US collapses and is picked off by the UK, Canada, Mexico, and Russia. We find ourselves in the southwestern states now known as Texoma. It is here that the gunnie Lizbeth Rose tries to piece out a life, running security on runs from Texoma, across the border to Mexico where work and prospects are stronger. When two Russian magicians come looking for a man named Alex Karkarov, they hire Lizbeth to find him or his family, but there are problems: The man they're looking for is dead, but he has a daughter they now need to find, as an ever-growing set of sorcerers and gunnies do not want them to succeed. It's a good thing Lizbeth is a deadly gunfighter; too bad she hates sorcerers, even the ones she has to learn to rely on.
This book isn't as easy to categorize as other Charlaine Harris books. It's a little bit western, a little bit alternate history, a little bit fantasy….
Lizbeth "Gunnie" Rose is a gunnie (basically, a bodyguard/escort to get people through the badlands) who has suddenly found herself without a crew. Her country is not the US that we know. Franklin Roosevelt's assassination, quickly followed by the depression and an influenza outbreak left the country vulnerable, and many parts have been taken over by other countries. Most notably, Russia now controls the west coast, and the Romanovs were never killed. Instead, they, along with Rasputin and his magic-using Grigoris, have fled across the ocean and now rule safely from California.
Two of these Grigoris have shown up at Lizbeth's door, looking for her help to find a man who happens to be her dead father's brother. Except she hasn't told them about her connection. And it seems that someone is very intent on stopping them.
The alternate history aspect of the story left me feeling somewhat unmoored in time for much of the story. It took me a long time to really wrap my mind around the time period, and I continued to struggle with the setting throughout the novel (this is a book that could have really used a map). I tried to just think of it as a western, but there are cars, which sort of messed with the pictures in my head. My issues with the setting are the only reason I'm giving this 3 stars rather than 4.
But beyond that, I did enjoy the story here. Lizbeth is a strong female lead, but she's not invincible. Harris is not afraid to show her hurt and struggling. There's magic in the story, but it's not always the saving grace. The second book just came out, and I hope I get a chance to pick it up soon!
As a side note, I'm trying to complete the PopSugar Reading Challenge this year, and this book fulfilled the "choose a book from your shelf with your eyes closed" prompt.
Other reviews:
"Bottom line, for a straight-up awesome read, pick up An Easy Death by Charlaine Harris. Whether you're new to the author's work or an old fan, I think most readers will be struck by the refreshingly different feel of her new series and be riveted by the energy of Lizbeth's tale." — The Bibliosanctum
"Characters have always been a strength of the author and I'm glad to see that continue here. The world-building was an interesting mix of elements that kept things feeling fresh." — Way Too Fantasy
"Overall, this is an exciting new direction for Charlaine Harris and I look forward to following the adventures of Gunnie Rose. Her world is vividly drawn and full of potential. Gunnie Rose is a great young heroine for the 21st century – confident, real and full of life, ready to step out into the world and take on any challenge." — Metawitches