2020: #4 – Catch and Kill (Ronan Farrow)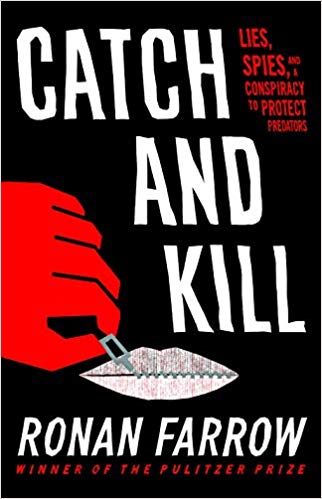 Catch and Kill: Lies, Spies, and a Conspiracy to Protect Predators
by
Ronan Farrow
Published by
Little, Brown and Company
on October 15, 2019
Genres:
journalism
Pages:
448


In a dramatic account of violence and espionage, Pulitzer Prize-winning investigative reporter Ronan Farrow exposes serial abusers and a cabal of powerful interests hell-bent on covering up the truth, at any cost.

In 2017, a routine network television investigation led Ronan Farrow to a story only whispered about: one of Hollywood's most powerful producers was a predator, protected by fear, wealth, and a conspiracy of silence. As Farrow drew closer to the truth, shadowy operatives, from high-priced lawyers to elite war-hardened spies, mounted a secret campaign of intimidation, threatening his career, following his every move and weaponizing an account of abuse in his own family.

All the while, Farrow and his producer faced a degree of resistance that could not be explained - until now. And a trail of clues revealed corruption and cover-ups from Hollywood, to Washington, and beyond.

This is the untold story of the exotic tactics of surveillance and intimidation deployed by wealthy and connected men to threaten journalists, evade accountability and silence victims of abuse - and it's the story of the women who risked everything to expose the truth and spark a global movement.

Both a spy thriller and a meticulous work of investigative journalism, Catch and Kill breaks devastating new stories about the rampant abuse of power - and sheds far-reaching light on investigations that shook the culture.
This. Is. Intense.
Catch and Kill is Ronan Farrow's account of his reporting of Harvey Weinstein's alleged sexual crimes. The story started out as an exploration of Hollywood's "casting couch", but it wasn't long before Farrow realized that the story went much further than Rose McGowan, one of the first women to come forward. Except that the deeper he went and the closer he got to Weinstein, the harder things got.
I was already familiar enough with the story to know that NBC had killed the initial report, but my god, the scope of the fuckery involved is astounding and enraging. The COWARDICE is amazing. And the strength and persistence of Farrow and his producer, Rich McHugh is admirable.
I thought Farrow did a good job telling the story behind the reporting. Most people don't know everything that goes into creating one of those reported pieces that show up on our TV screen, and those details were interesting. He also has enough of a personal stake in the topic (his sister, Dylan Farrow, has accused their father Woody Allen of abusing her) to be really compassionate towards the women involved. He tries to keep the focus on them and on the risks they are taking as much as possible. And there's some personal danger to him too — not only does it appear that he's being followed, but someone is leaking details of his story to Weinstein, and eventually it leads to him being fired from NBC.
I felt like the book meandered a bit after the release of the Weinstein story. There is a brief diversion into Donald Trump territory before the story is reigned back in, and while I understand why that section is in there, I felt it could have just as easily been cut out.
Honestly, I was appalled at the decisions made by the NBC executives, and it's going to be a long time before I can trust a news report from that brand.
I listened to this in audio and thought it was really good, though it's not going to be to everyone's tastes. Farrow does a LOT of accents. I feel that his delivery is charming enough to pull it off, but I know there are many people that disagree. So if you think the accents will bother you, still pick up this book in print. It's well worth it. Join me in my anger.
I read this for the PopSugar Reading Challenge this year, and this book fulfilled the "book by our about a journalist" prompt.
Other reviews:
"A thrilling and true account of the reporting that went into bringing down Harvey Weinstein and all that followed in the #MeToo era. This one reads like a thriller, and even though this subject matter is hard, it is fun to read. Ronan Farrow is an incredible talent, and I can't wait to see what he does next." — She's Full of Lit
"This book will appeal to those who like a good dose of gossip, because that's essentially what this book is; a full-on investigation into gossip, why it never went anywhere, and why the 'bad guys' haven't been punished yet. But Farrow is a respected and serious journalist, and his desire to do the right thing and give a voice to these women is admirable and so badly needed." — I've Read This
"I thought I was informed about the Harvey Weinstein allegations, but Catch and Kill showed me just how ignorant I was. There was so much going on behind the scene that I think it is important for the public to be informed about. All of the cover ups and enabling that went on shouldn't be shocking but it is incredibly disheartening." — Kristin Kraves Books