2017: #6 – Ghostland (Colin Dickey)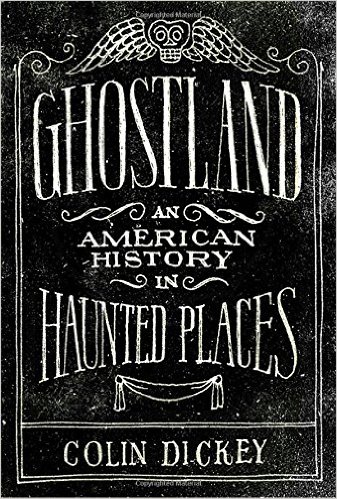 Ghostland: An American History in Haunted Places
by
Colin Dickey
Published by
Viking
on October 4th 2016
Genres:
non-fiction
Pages:
320


An intellectual feast for fans of offbeat history, Ghostland takes readers on a road trip through some of the country's most infamously haunted places--and deep into the dark side of our history.

Colin Dickey is on the trail of America's ghosts. Crammed into old houses and hotels, abandoned prisons and empty hospitals, the spirits that linger continue to capture our collective imagination, but why? His own fascination piqued by a house hunt in Los Angeles that revealed derelict foreclosures and "zombie homes," Dickey embarks on a journey across the continental United States to decode and unpack the American history repressed in our most famous haunted places. Some have established reputations as "the most haunted mansion in America," or "the most haunted prison"; others, like the haunted Indian burial grounds in West Virginia, evoke memories from the past our collective nation tries to forget.

With boundless curiosity, Dickey conjures the dead by focusing on questions of the living--how do we, the living, deal with stories about ghosts, and how do we inhabit and move through spaces that have been deemed, for whatever reason, haunted? Paying attention not only to the true facts behind a ghost story, but also to the ways in which changes to those facts are made--and why those changes are made--Dickey paints a version of American history left out of the textbooks, one of things left undone, crimes left unsolved.

Spellbinding, scary, and wickedly insightful, Ghostland discovers the past we're most afraid to speak of aloud in the bright light of day is the same past that tends to linger in the ghost stories we whisper in the dark.
This book was a birthday gift from my husband, who knows how much I love both old buildings and ghosts. I'm not sure I would have learned of it otherwise. We have toured many a historic home and taken ghost tours in many cities, because I love the combination of history with the mystical. So this book was right in my wheelhouse.
Dickey is not so much concerned with telling us ghost stories as he is interested in telling us who, what, and where, and why of them. Who were these ghosts in their earthly form? Did they even exist? What happened to them? Where is this place that they haunt, and is that location significant? And why? Why would this spirit need to haunt this place? Why are we compelled to search for ghosts?
"A paranormal event without a story is tenuous, fragile. What makes it 'real', at least in a sense, is the story, the tale that grounds the event."
The book explores some places you may be familiar with, like the Winchester Mystery House or the House of Seven Gables, as well as some places you may never have considered, like the part of Richmond, Virginia that used to be a slave market. But I think Dickey brings a fresh perspective even to the most well-worn stories. I've toured the Winchester Mystery House, and his words made me think about it differently. He also raises some interesting issues, particularly in the story of the slave market. Why are so many ghosts white, when there has been so much black suffering?
The only thing I felt the book was missing was pictures. I read the Kindle version, so maybe they exist in the print version? They would have been an excellent addition, especially since I was familiar with some of the locations, and not with others. I particularly felt compelled to Google Timothy Brown's house in Georgetown, New York.
Overall I enjoyed the perspective Dickey provides. It definitely gave me something to think about on our next ghost tour!
Other reviews:
"The questions that Dickey sets out to answer here are worthy ones, and there's a lot to think about regarding the way we produce and consume ghost stories." – SF Bluestocking
"It's not as scary as one would expect from such a title and subject but nevertheless, super interesting." – Cat's Shelf
"Dickey spins us away from the well-trod path, and into the darkened forest of our own history and collective psyche." – The Irregular Reader