2011: #52 – Smokin' Seventeen (Janet Evanovich)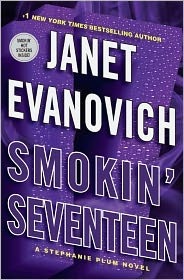 Book #52 was Smokin' Seventeen, the seventeenth book in Janet Evanovich's Stephanie Plum series. The back of the book reads:
Where there's smoke there's fire, and no one knows this better than New Jersey bounty hunter Stephanie Plum.

Dead bodies are showing up in shallow graves on the empty construction lot of Vincent Plum Bail Bonds. No one is sure who the killer is, or why the victims have been offed, but what is clear is that Stephanie's name is on the killer's list.

Short on time to find evidence proving the killer's identity, Stephanie faces further complications when her family and friends decide that it's time for her to choose between her longtime off-again-on-again boyfriend, Trenton cop Joe Morelli, and the bad boy in her life, security expert Ranger. Stephanie's mom is encouraging Stephanie to dump them both and choose a former high school football star who's just returned to town. Stephanie's sidekick, Lula, is encouraging Stephanie to have a red-hot boudoir "bake-off." And Grandma Bella, Morelli's old-world grandmother, is encouraging Stephanie to move to a new state when she puts "the eye" on Stephanie.

With a cold-blooded killer after her, a handful of hot men, and a capture list that includes a dancing bear and a senior citizen vampire, Stephanie's life looks like it's about to go up in smoke.
This had everything you expect from a Stephanie Plum novel: a couple of wacky captures, a destroyed car or two, Grandma terrorizing the funeral home, lots of Lulu, and some hot lovin' between Stephanie and Morelli (or Ranger) (or both). Unfortunately, I really think it's time to either shake up the formula a bit or to shut down the series completely.
Stephanie does a few things that are out of character when it comes to her love life, but I'm starting to wonder if the triangle (and I use that term loosely, since it's mostly all talk no action with Ranger) will ever be resolved.
And while the serial killer storyline was vaguely interesting, it was also as transparent as a window. By the time the second body showed up, I knew who the killer was.
I suppose I'll continue reading the series, but my excitement for it is waning.
Other reviews:
The Brazen Bookworm: Book Review: Smokin' Seventeen by Janet Evanovich
Reflections of a Bookaholic: Review: Smokin' Seventeen
Review: Smokin' Seventeen {Stephanie Plum #17} by Janet Evanovich
Review: Smokin' Seventeen « Bermudaonion's Weblog
Duffbert's Random Musings :: Book Review – Smokin' Seventeen by Janet Evanovich
Page count: 320 ('11 total: 14,078) | Approximate word count: 80,000 ('11 total: 5,121,870)
2010: Pay Dirt (Rita Mae Brown)
2009: Sunny Chandler's Return (Sandra Brown)
2008: Sharp Teeth (Toby Barlow)
2007: The Apprentice (Tess Gerritsen)
2006: The Winds of War (Herman Wouk)
2005: Four to Score (Janet Evanovich)
Used in these Challenges: 2011 E-book Reading Challenge; Outdo Yourself Reading Challenge 2011;