2021: #47 – Ayesha at Last (Uzma Jalaluddin)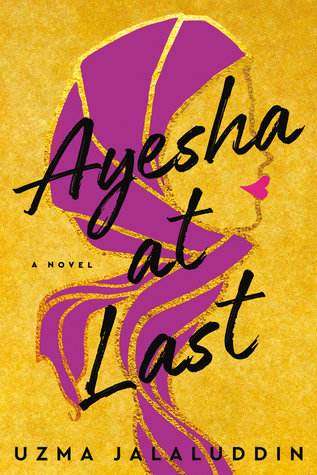 Ayesha at Last
by
Uzma Jalaluddin
Published by
Berkley Books
on June 12, 2018
Genres:
new adult
,
contemporary romance
Pages:
351


A modern-day Muslim Pride and Prejudice for a new generation of love.

Ayesha Shamsi has a lot going on. Her dreams of being a poet have been set aside for a teaching job so she can pay off her debts to her wealthy uncle. She lives with her boisterous Muslim family and is always being reminded that her flighty younger cousin, Hafsa, is close to rejecting her one hundredth marriage proposal. Though Ayesha is lonely, she doesn't want an arranged marriage. Then she meets Khalid, who is just as smart and handsome as he is conservative and judgmental. She is irritatingly attracted to someone who looks down on her choices and who dresses like he belongs in the seventh century.

When a surprise engagement is announced between Khalid and Hafsa, Ayesha is torn between how she feels about the straightforward Khalid and the unsettling new gossip she hears about his family. Looking into the rumors, she finds she has to deal with not only what she discovers about Khalid, but also the truth she realizes about herself.
This was a sweet, muslim-centered rom-com that centered around arranged marriages and how one chooses to follow their faith.
Ayesha and Khalid may live across the street from each other, but are on different ends of the religious spectrum. Khalid is very conservative, wearing traditional clothing and keeping his beard long and his head covered. Ayesha is also conservative, but wears secular clothing, goes out to bars, and has chosen a job over a husband at this point in her life.
But Ayesha's younger cousin, Hafsa, is fully ready to get married, and they have started accepting suitors. But she is also supposed to be helping organize a conference for young Muslims at their mosque. Ayesha agrees to help her, but then is talked into pretending to *be* her. Which is when she meets Khalid. Khalid and Ayesha don't start out having great opinions of each other, but things change over time. The problem is, Khalid thinks she is Hafsa.
Overall, I really liked this story, even if it maybe tries to tackle too many issues at once. Beyond the differences in their levels of religious observance, there is also workplace racism, unexpected pregnancy, and a lot about arranged marriages and whether they are good or bad or somewhere in-between. But I thought the characters were great, and I learned some things along the way.
I read this for the following reading challenges:
Other reviews:
"Uzma Jalaluddin's writing is a rare combination of poetic and to-the-point making 'Ayesha at Last' both a fast-paced and engaging read." — Sophia Ismaa
"Ayesha at Last had potential but missed the mark. The author tried to do too much in one book. There was workplace discrimination, dealing with Khalid's past and faith, Ayesha's family's plot threads, and even a little bit of Ayesha's friend's romance. If only a couple of things were focused on, it would have turned out much better." — the wordy habitat
"You know a classic retelling is good when you stop comparing it to the original and get swept up in the new narrative! I read this book earlier in the summer and it blew me away." — scribbles & wanderlust