2021: #61 – The Age of Miracles (Karen Thompson Walker)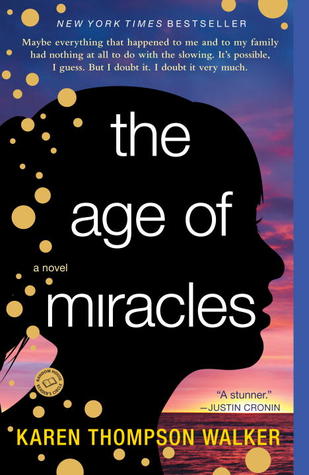 The Age of Miracles
by
Karen Thompson Walker
Published by
Random House Trade Paperbacks
on January 15, 2013
Genres:
young adult
,
y/a science fiction/dystopian
Pages:
272


"It's never the disasters you see coming that finally come to pass—it's the ones you don't expect at all," says Julia, in this spellbinding novel of catastrophe and survival by a superb new writer. Luminous, suspenseful, unforgettable, The Age of Miracles tells the haunting and beautiful story of Julia and her family as they struggle to live in a time of extraordinary change.

On an ordinary Saturday in a California suburb, Julia awakens to discover that something has happened to the rotation of the earth. The days and nights are growing longer and longer; gravity is affected; the birds, the tides, human behavior, and cosmic rhythms are thrown into disarray. In a world that seems filled with danger and loss, Julia also must face surprising developments in herself, and in her personal world: divisions widening between her parents; strange behavior by her friends; the pain and vulnerability of first love; a growing sense of isolation; and a surprising, rebellious new strength. With crystalline prose and the indelible magic of a born storyteller, Karen Thompson Walker paints a breathtaking portrait of people finding ways to go on in an ever-evolving world.
I suspect that reading this book now hits a lot differently than reading it when it first came out.
I guess it never is what you worry over that comes to pass in the end. The real catastrophes are always different—unimagined, unprepared for, unknown.
Julia and her family are enjoying a normal Saturday when strange news starts being reported. After a few days, the "what" becomes clear — the Earth's rotation is slowing down — but the why remains a mystery. As well as what they can possibly do about it. What follows is the story of Julia and her family trying to not just survive, but grow and live in this strange new world.
Honestly, the story brought up a lot of those early pandemic anxieties for me. Not understanding exactly what was going on, the talking heads debating and talking over each other, all the conflicting ideas and directives, the bulk buying at the store. Even the divide between those who wanted to follow the sun and those who wanted to follow the clock was reminiscent of the pro-/anti-mask debates.
At its heart this is a coming of age story, following Julia through this tough time in her life. There's no real resolution to what has happened to the planet, but I did feel like there was a complete story here. I thought Walker did a thorough job of thinking through how a longer day would affect basically everything. I enjoyed it, and I would read another book by her.
I read this for the following reading challenges:
Other reviews:
"In The Age of Miracles, the disaster is almost background, as the main story is about Julia saying good-bye to her childhood and moving forward into a brand new world. An interesting choice, but not entirely convincing or satisying for me." — Bookshelf Fantasies
"It was a pleasure to read and at times quite painful for the raw memories that it evoked of growing up." — For winter nights – A bookish blog
"Ultimately, I enjoyed The Age of Miracles, but it falls short of the biggest and most important test that faces any apocalyptic novel: it lacks emotional resonance and characters with heart. Thus, The Age of Miracles is a good novel, but not a particularly miraculous one." — The Book Smugglers