2021: #37 – Trust Your Eyes (Linwood Barclay)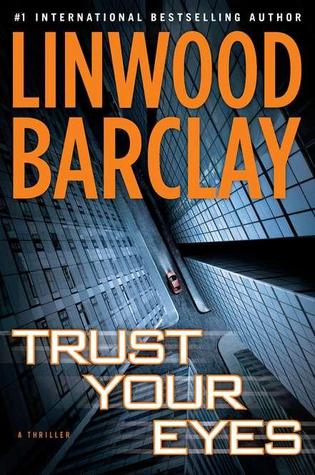 Trust Your Eyes
by
Linwood Barclay
Published by
NAL
on September 4, 2012
Genres:
thriller
Pages:
496


Also by this author:
Too Close to Home
,
Bad Move
Thomas Kilbride is a map-obsessed schizophrenic so affected that he rarely leaves the self-imposed bastion of his bedroom. But with a computer program called Whirl360.com, he travels the world while never stepping out the door. That is until he sees something in a street view of downtown New York City. Thomas's keen eyes have detected an image in a window...an image that looks like a woman being murdered.

Thomas's brother, Ray, takes care of him, cooking for him, dealing with the outside world on his behalf, and listening to his intricate and increasingly paranoid theories. When Thomas tells Ray what he has seen, Ray humors him with a half-hearted investigation. But Ray soon realizes he and his brother have stumbled onto a deadly conspiracy.

And now they are in the crosshairs...
Ray Kilbride has found himself back in his hometown after the sudden death of his father. But besides all of the normal things that come with settling someone's affairs, Ray also has to deal with what to do about his younger brother, Thomas. Thomas has schizophrenia, and doesn't leave his room voluntarily other than to eat and shower. He spends all of his time online, walking the streets of the world's cities on Whirl360, a Google Maps-esque program. He's not only "walking" the streets, he's memorizing them, because he believes that the CIA and former president Bill Clinton have hired him to be prepared to be able to recreate these maps after a coming global catastrophe.
But one day Thomas sees something on one of those maps that wasn't meant to be seen, and a chain reaction of events is kicked off that will change life for the brothers forever.
I generally like Barclay, though I wasn't sure about this one at first. It took a while for all the different pieces to come together and form one picture, but it kept me turning the pages. There are also a couple of little side mysteries within Thomas and Ray's personal lives that were compelling.
I read this for the following reading challenges:
Other reviews:
"Trust Your Eyes just moves RIGHT along, and I really enjoyed watching the plot unfold. It's about as clean as most of John Grisham's stuff (which is to say a few sexual references and a lot of violence)." — Everyday Reading
"I generally find Barclay's endings the weakest part of his books, and Trust Your Eyes is no exception. His endings are still good, just difficult to live up to the expectations set by the absolutely gripping beginnings." — Literary Treats
"The characters in Trust Your Eyes are totally believable, as is the plot. Sometimes the most seemingly innocent or innocuous decisions have grave consequences." — Marilyn's Mystery Reads