2006: #49 – All That Remains (Patricia Cornwell)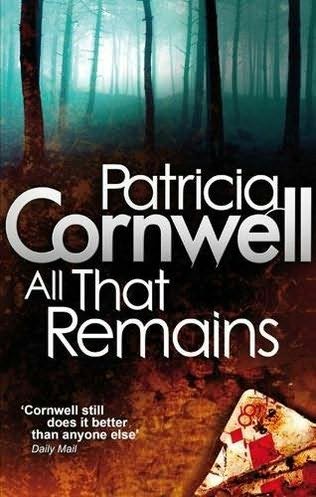 All That Remains
Kay Scarpetta #03
Detective Fiction
Pocket Star
June 30, 2009
480

A serial killer is loose in Richmond, specializing in attractive young couples whose bodies are invariably found in the woods months later -- minus their shoes and socks. Chief Medical Officer Dr Kay Scarpetta finds herself tracking a killer whoscrupulously eliminates every clue, rendering all her forensic skills useless. This time it's her courage and intuition on the line in a race against time.
Book #49 was All That Remains, the 3rd book in Patricia Cornwell's Kay Scarpetta series.
It's interesting to read these early books in the series after reading a lot of the later ones. Fills in the blanks on some of the back story. Overall, this one was pretty good, though there was some stuff jumped over in the end, like Cornwell didn't want to go over a certain number of pages, so she just refers to it instead of actually writing about it.
Book count: 49
Pages in book: 416
Page count: 19,283
Words in book: 107,070
Word count: 5,592,898
1,000,000 words surpassed — 2/2/06
2,000,000 words surpassed — 2/14/06
10,000 pages surpassed — 3/10/06
3,000,000 words surpassed — 3/16/06
4,000,000 words surpassed — 4/3/06
5,000,000 words surpassed — 5/30/06