2006: #4 – Postmortem (Patricia Cornwell)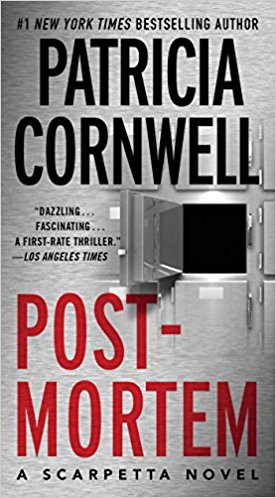 Postmortem
by
Patricia Cornwell
Series:
Kay Scarpetta #01
on January 1st 1970
Genres:
police procedural
Pages:
440


Also by this author:
Cause of Death
,
All That Remains
Also in this series:
Cause of Death
,
All That Remains
Under cover of night in Richmond, Virginia, a human monster strikes, leaving a gruesome trail of stranglings that has paralyzed the city. Medical examiner Kay Scarpetta suspects the worst: a deliberate campaign by a brilliant serial killer whose signature offers precious few clues. With an unerring eye, she calls on the latest advances in forensic research to unmask the madman. But this investigation will test Kay like no other, because it's being sabotaged from within and someone wants her dead.
Book #4 was Postmortem, the first book in Patricia Cornwell's Kay Scarpetta series.
After reading a bunch of her later books, I finally read this first one. And felt like I had read it before. The entire thing felt familiar, but I'm sure I haven't read it. And I felt like there was back story I was missing, like maybe this wasn't the first book, after all. But, overall, another good one from Cornwell. I can't argue with a decent whodunit cop story complete with autopsies, right?
Book count: 4
Pages in book: 342
Page count: 1,496
Words in book: 94,453
Word count:435,448