2006: #66 – Plain Truth (Jodi Picoult)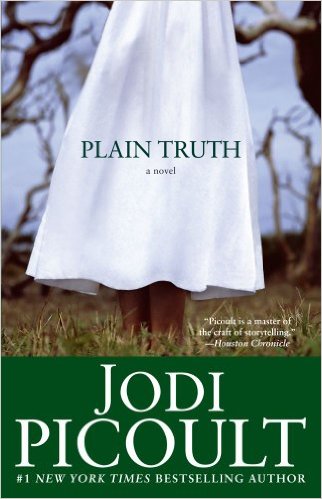 Plain Truth
General Fiction
Simon and Schuster
August 7, 2007
405

The discovery of a dead infant in an Amish barn shakes Lancaster County to its core. But the police investigation leads to a more shocking disclosure: circumstantial evidence suggests that eighteen-year-old Katie Fisher, an unmarried Amish woman believed to be the newborn's mother, took the child's life. When Ellie Hathaway, a disillusioned big-city attorney, comes to Paradise, Pennsylvania, to defend Katie, two cultures collide -- and, for the first time in her high-profile career, Ellie faces a system of justice very different from her own. Delving deep inside the world of those who live "plain," Ellie must find a way to reach Katie on her terms. And as she unravels a tangled murder case, Ellie also looks deep within -- to confront her own fears and desires when a man from her past reenters her life.
Moving seamlessly from psychological drama to courtroom suspense, Plain Truth is a fascinating portrait of Amish life -- and a moving exploration of the bonds of love, friendship, and the heart's most complex choices.

Book #66 was Plain Truth, by Jodi Picoult.
This was the first Jodi Picoult book I've read, and I really enjoyed it! I like reading and learning about different ways of living. This is the second book featuring the Amish I've read in a month, and I feel like I understand the culture a little better than I did.
Book count: 66
Pages in book: 405
Page count: 26,908
Words in book: 142,412
Word count: 7,862,263
1,000,000 words surpassed — 2/2/06
2,000,000 words surpassed — 2/14/06
10,000 pages surpassed — 3/10/06
3,000,000 words surpassed — 3/16/06
4,000,000 words surpassed — 4/3/06
5,000,000 words surpassed — 5/30/06
50 books surpassed — 6/12/06
20,000 pages surpassed — 6/29/06
6,000,000 words surpassed — 6/29/06
7,000,000 words surpassed — 7/21/06