2006: #77 – Indigo Slam (Robert Crais)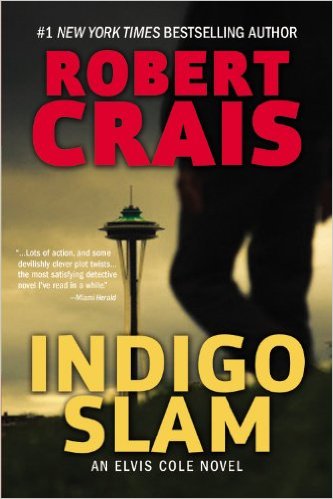 Indigo Slam
Elvis Cole #07
Detective Fiction
Fawcett Books
January 1, 2003
307

Life in the California sun suits Elvis Cole--until the day a fifteen-year-old girl and her two younger siblings walk into his office. Then everything changes.
Three years ago, a Seattle family ran for their lives in a hail of bullets. Hired by three kids to find their missing father, Elvis now must pick up the cold pieces of a drama that began that night. What he finds is a sordid tale of high crimes and illicit drugs. As clues to a man's secret life emerge from the shadows, Elvis knows he's not just up against ruthless mobsters and some very angry Feds. He's facing a storm of desperation and conspiracy--bearing down on three children whose only crime was their survival. . . .
Book #77 was Indigo Slam, the 7th book in Robert Crais' (Crais's?) Elvis Cole series.
I think this is the first Robert Crais book I've read. I have vague memories of listening to something called "L.A. Requiem", but I don't know if he was the author. Anyway, it was pretty good. I won't turn down other books in the series. And how did I end up with #7 first? That's what happens when you get piles of paperbacks from your father.
I liked the Elvis Cole character, but I have no earthly idea what "Indigo Slam" means.
Book count: 77
Pages in book: 320
Page count: 32,284
Words in book: 93,941
Word count: 9,511,850
1,000,000 words surpassed — 2/2/06
2,000,000 words surpassed — 2/14/06
10,000 pages surpassed — 3/10/06
3,000,000 words surpassed — 3/16/06
4,000,000 words surpassed — 4/3/06
5,000,000 words surpassed — 5/30/06
50 books surpassed — 6/12/06
20,000 pages surpassed — 6/29/06
6,000,000 words surpassed — 6/29/06
7,000,000 words surpassed — 7/21/06
8,000,000 words surpassed — 8/18/06
30,000 pages surpassed — 9/3/06
9,000,000 words surpassed — 9/6/06