2006: #78 – Voyager (Diana Gabaldon)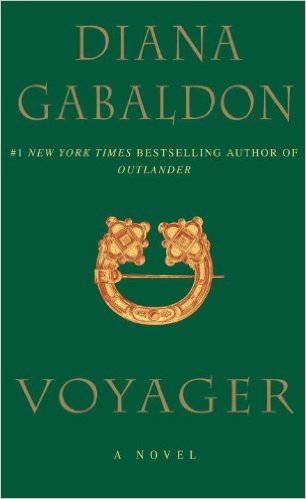 Voyager
Outlander #03
Historical Fiction
Dell Publishing Company
1994
1072

In this rich, vibrant tale, Diana Gabaldon continues the story of Claire Randall and Jamie Fraser that began with the now-classic novel Outlander and continued in Dragonfly in Amber. Sweeping us from the battlefields of eighteenth-century Scotland to the exotic West Indies, Diana Gabaldon weaves magic once again in an exhilarating and utterly unforgettable novel....
Their love affair happened long ago by whatever measurement Claire Randall took. Two decades before, she had traveled back in time and into the arms of a gallant eighteenth-century Scot named Jamie Fraser. Then she returned to her own century to bear his child, believing him dead in the tragic battle of Culloden. Yet his memory has never lessened its hold on her ... and her body still cries out for him in her dreams.
When she discovers that Jamie may have survived, Claire must choose her destiny. And as time and space come full circle, she must find the courage to face what awaits her ... the deadly intrigues raging in a divided Scotland ... and the daring voyage into the dark unknown that lies beyond the standing stones.

Book #78 was Voyager, the 3rd book in Diana Gabaldon's Outlander series.
I have to continue giving this series an A+. This installment wasn't quite so heartwrenching, though it did have its moments!
Book count: 78
Pages in book: 1059
Page count: 33,343
Words in book: 381,597
Word count: 9,892,447
1,000,000 words surpassed — 2/2/06
2,000,000 words surpassed — 2/14/06
10,000 pages surpassed — 3/10/06
3,000,000 words surpassed — 3/16/06
4,000,000 words surpassed — 4/3/06
5,000,000 words surpassed — 5/30/06
50 books surpassed — 6/12/06
20,000 pages surpassed — 6/29/06
6,000,000 words surpassed — 6/29/06
7,000,000 words surpassed — 7/21/06
8,000,000 words surpassed — 8/18/06
30,000 pages surpassed — 9/3/06
9,000,000 words surpassed — 9/6/06