2020: #42 – Daughter of Moloka'i (Alan Brennert)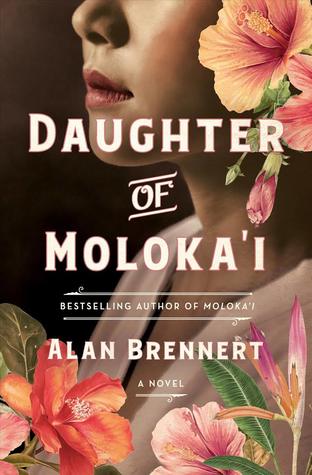 Daughter of Moloka'i
by
Alan Brennert
Published by
St. Martin's Press
on February 19, 2019
Genres:
hf - multi-period saga
,
historical fiction
Pages:
309


This companion tale to Moloka'i tells the story of Ruth, the daughter that Rachel Kalama—quarantined for most of her life at the isolated leprosy settlement of Kalaupapa—was forced to give up at birth.

The book follows young Ruth from her arrival at the Kapi'olani Home for Girls in Honolulu, to her adoption by a Japanese couple who raise her on a strawberry and grape farm in California, her marriage and unjust internment at Manzanar Relocation Camp during World War II—and then, after the war, to the life-altering day when she receives a letter from a woman who says she is Ruth's birth mother, Rachel.
Daughter of Moloka'i is the follow-up to Brennert's fantastic Moloka'i, which was about the leper colony on the island of Moloka'i in Hawaii. Two of the isolated patients on that island, Rachel and Kenji, give birth to a baby named Ruth, who must almost immediately be taken away so she doesn't contract leprosy from her parents. When this story opens, Ruth is being delivered to the Kapi'olani Home for Girls.
As a young girl, it seems like Ruth would find adoptive parents with little trouble, but because she is half-Hawaiian and half-Japanese, she is often overlooked by the Hawaiian couples looking to adopt. Then she meets a Japanese couple who are looking for a little girl to join their three boys, and her life is changed forever.
By the time World War II happens, Ruth is a married woman with two children of her own, still close to her adoptive family and living in California in an area already thick with anti-Japanese sentiment. Then Pearl Harbor happens, and before they know it they are being whisked away to internment camps, forced to give up their businesses and their homes and their pets and most of their belongings.
This part of the story was the most interesting to me, because despite all of the books I've read about World War II, I've never read one that was about the internment camps, how they worked, and the things that happened there. Brennert is known for his thorough research, and this book is no exception. It's breath-takingly terrible what happened to an entire group of people united only be race, simply because they looked different enough to be easily identified. More than once the sentiment "why is this happening to us, but not German or Italian people?" is expressed, and it made me sit up and say, "Yeah, why is that?" (Even though we all know the true answer.)
After the internment ends and life starts to approach something more normal, Ruth gets another surprise. She receives a letter from her birth mother, offering answers to questions Ruth never knew she had. Should she meet this woman she never knew but knew existed? Can she let them be a part of their lives?
Brennert writes beautiful historical fiction. I can't wait to see what he comes out with next.
I read this for the PopSugar Reading Challenge this year — this book fulfilled the "book with a three-word title" prompt.
Other reviews:
"The writing is wonderfully descriptive and the details create vivid imagery that will stay with you. Overall, Daughter of Moloka'i is a touching coming of age story that is both poignant and meaningful." — The Genre Minx Book Reviews
"The language in this book, whether it's Hawai'ian, Japanese, or American English, is inspiring. It shows the flavor of the world Ruth lived in, both good and bad. At times, I laughed. Others, I teared up. To see a 50-thousand foot version of someone's life throughout the middle of the 20th century during many horrific wars is quite impacting." — This is My Truth Now
"On the whole, this was a good book. But it wasn't a great book for me. Moloka'i was so inspiring and focused on the resilience of its main character. Daughter of Moloka'i offered a new perspective, but felt more forced and less resplendent." — the bibliophage