2005: #74 – Hornet Flight (Ken Follett)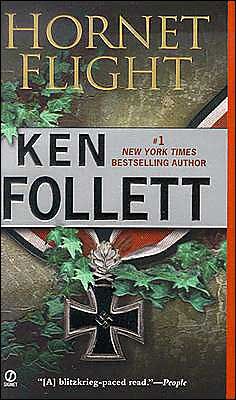 Hornet Flight
by
Ken Follett
Published by
Signet
on November 25th 2003
Genres:
hf - World War II
,
historical fiction
Pages:
518


Also by this author:
Jackdaws
,
Whiteout
Ken Follett follows his bestsellers Jackdaws and Code to Zero with an extraordinary novel of early days of World War II...It is June 1941 and the war is not going well for England. Across the North Sea, eighteen-year-old Harald Olufsen takes a shortcut on the German-occupied Danish island of Sande an discovers an astonishing sight that will change the momentum of the war. He must get word to England-except that he has no way to get there. He has only an old derelict Hornet Moth biplane rusting away in a ruined church: a plane so decrepit that it is unlikely ever to get off the ground...even if Harald knew how to fly it.
Book #74 was Hornet Flight, by Ken Follett.
Ken Follett is one of those authors I wish I'd discovered earlier. His books are so engaging that you hardly notice how far along you are in it. The last two I've read (this one and Jackdaws) were set in WW2, which probably makes me enjoy them a little bit more. It's been one of my favorite eras to read about since I've started reading. I really enjoyed this one, and I'm glad I had a snow day today so I could sit down and finish it!
I'm going to try to finish book #75 before the end of the year.
Book count: 74
Pages in book: 528
Page count: 26,987
15,000 page goal reached 6/14/05!
50 book goal reached 7/19/05!