2021: #10 – Get a Life, Chloe Brown (Talia Hibbert)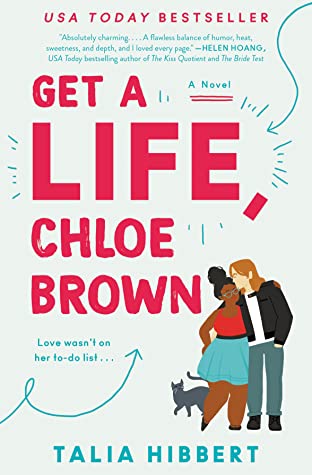 Get a Life, Chloe Brown
by
Talia Hibbert
Series:
The Brown Sisters #01
Published by
Avon
on November 5, 2019
Genres:
contemporary romance
Pages:
373


Chloe Brown is a chronically ill computer geek with a goal, a plan, and a list. After almost—but not quite—dying, she's come up with seven directives to help her "Get a Life", and she's already completed the first: finally moving out of her glamorous family's mansion. The next items?


Enjoy a drunken night out.
Ride a motorcycle.
Go camping.
Have meaningless but thoroughly enjoyable sex.
Travel the world with nothing but hand luggage.
And... do something bad.


But it's not easy being bad, even when you've written step-by-step guidelines on how to do it correctly. What Chloe needs is a teacher, and she knows just the man for the job.

Redford 'Red' Morgan is a handyman with tattoos, a motorcycle, and more sex appeal than ten-thousand Hollywood heartthrobs. He's also an artist who paints at night and hides his work in the light of day, which Chloe knows because she spies on him occasionally. Just the teeniest, tiniest bit.

But when she enlists Red in her mission to rebel, she learns things about him that no spy session could teach her. Like why he clearly resents Chloe's wealthy background. And why he never shows his art to anyone. And what really lies beneath his rough exterior…
This was my first Talia Hibbert book, and I loved it! It's a sweet contemporary romance with a non-traditional (in race, size, and health) female lead and a male lead who is actually respectful and sensitive and not afraid of things like therapy. The hurt feelings feel real, as do the solutions to those feelings. What I especially liked is that Chloe's race, size, and health are just things about her. They are not harped upon outside of the very realistic impact her health has on her life. There are no inner dialogues here where Chloe whinges about the size of her thighs or her butt.
The one minor quibble I have is that I listened to the audiobook and had a hard time adjusting to the narrator, who is obviously very talented but also has a voice that sounds older than these characters. I got used to it after a while, but it was jarring to me for about the first 1/3 of the book.
I read this for the following reading challenges:
Other reviews:
"It was so interesting and gave the story so much depth was that neither of these main characters started a romance that became co-dependent. They were both individuals who were learning, growing and moving on from their pasts, prompted by their purpose to be better for each other (and not as a result)." — Truffle's Literary Wonders
"Chloe and Red's relationship was slow-burn, sweet, and filled with banter. Both of them had been hurt before, and watching them lower their defences and let one another in was very heartwarming." — Lavish Literature
"I read this book for one reason and one reason alone… because it has illness rep. I needed to read a cute romance novel that fully explored what it means to live with chronic illness and pain." — A Little Haze Book Blog