2021: #9 – Children of Blood and Bone (Tomi Adeyemi)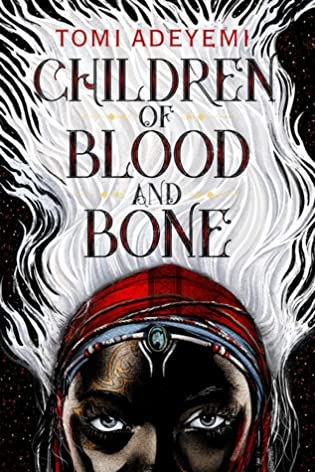 Children of Blood and Bone
by
Tomi Adeyemi
Series:
Legacy of Orisha #01
Published by
Henry Holt Company
on March 6, 2018
Genres:
y/a fantasy
Pages:
544


They killed my mother.They took our magic.They tried to bury us.

Now we rise.

Zélie Adebola remembers when the soil of Orïsha hummed with magic. Burners ignited flames, Tiders beckoned waves, and Zélie's Reaper mother summoned forth souls.

But everything changed the night magic disappeared. Under the orders of a ruthless king, maji were killed, leaving Zélie without a mother and her people without hope.

Now Zélie has one chance to bring back magic and strike against the monarchy. With the help of a rogue princess, Zélie must outwit and outrun the crown prince, who is hell-bent on eradicating magic for good.

Danger lurks in Orïsha, where snow leoponaires prowl and vengeful spirits wait in the waters. Yet the greatest danger may be Zélie herself as she struggles to control her powers and her growing feelings for an enemy.
Children of Blood and Bone is a YA fantasy based on a Nigerian religious tradition. In Adeyemi's world, the Magi once had powers that were tied to the gods: being able to raise the dead (in ghost form), manipulate fire or water or wind or earth, manipulate dreams and feel what others feel, etc. Due to a personal tragedy, the current king has killed all of the adult Magi and made it so that magic has disappeared, and continues to torture and discriminate against the Magi who were children and have now grown. Unfortunately, all Magi have white hair, so they are easily recognizable.

Zélie is a teenaged Magi girl who saw her mother killed by the King's men, and now bears a lot of guilt as her family continues to be punished for her existence. When she makes the split second decision to help another teenaged girl who is being chased by the King's guards, she has no idea that she's about to set off on a quest to reawaken magic for her people.

The story uses three points of view, Zélie; Amari (the girl she helps); and Amari's brother Inan, to give us the feeling of the cat and mouse chase that's going on. It's definitely a young adult novel, so there are going to be some tropey things going on, but that didn't bother me. I can look past convenient plot points and actions that maybe aren't perfectly logical if I'm enjoying the story, and I did enjoy this. I was actually surprised at how polarizing the reviews are. The author is using this story to illustrate racial oppression, and I think that's a point of view that's important to have in the very white world of fantasy.

The story comes to a satisfying enough end that you don't *have* to read the next one, but it is definitely on my TBR.
I read this for the following reading challenges:
Other reviews:
"Overall, I really enjoyed reading Children of Blood and Bone. Even though it wasn't perfect, there were so many things in the novel that I couldn't help but love and the sheer importance of this book is enough to make it necessary for everyone to pick up." — Vicky Who Reads
"Children of Blood and Bone is an important story of rebellion – one that reflects oppression of a marginalised group, and how one girl breaks free from this oppression to create a better life for her people. With it's dark, brutal plot, exciting fast pace and a stunning magical system that is well developed, I absolutely loved this book." — Happy Indulgence
"The ending of the story was explosive, and action packed, and had me on the edge of my seat. It was the perfect way to end the book, and sets you up perfectly for the sequel. I absolutely loved every second of Children of Blood and Bone, and I can not wait to read Children of Virtue and Vengeance (despite the very mixed reactions to it). This is a book that I could definitely re-read over and over again." — For Books Sake