2005: #48 – Harry Potter and the Half-Blood Prince (J.K. Rowling)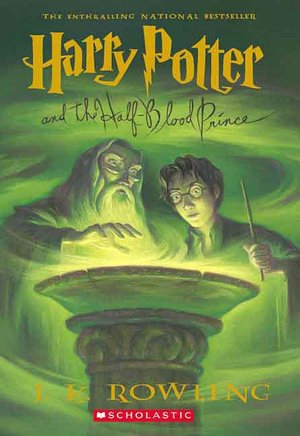 Harry Potter and the Half-Blood Prince
by
J.K. Rowling
Series:
Harry Potter #06
Published by
Scholastic
on September 16th 2006
Genres:
y/a fantasy
Pages:
652


It is the middle of the summer, but there is an unseasonal mist pressing against the windowpanes. Harry Potter is waiting nervously in his bedroom at the Dursleys' house in Privet Drive for a visit from Professor Dumbledore himself. One of the last times he saw the Headmaster was in a fierce one-to-one duel with Lord Voldemort, and Harry can't quite believe that Professor Dumbledore will actually appear at the Dursleys' of all places. Why is the Professor coming to visit him now? What is it that cannot wait until Harry returns to Hogwarts in a few weeks' time? Harry's sixth year at Hogwarts has already got off to an unusual start, as the worlds of Muggle and magic start to intertwine...

J.K. Rowling charts Harry Potter's latest adventures in his sixth year at Hogwarts with consummate skill and in breathtaking fashion.
Book #48 was, of course, Harry Potter and the Half-Blood Prince, by J.K. Rowling.
I'm going to try to sum up my feelings on the book without giving anything away. I liked this one more than I liked the last one. So much happened in #5 that you were almost relieved when it was over. This book ended really giving me a sense of what was to come, and that's not something I've gotten from the previous books. And I didn't feel overwhelmed with information when it was over.
Yes, it's a kid's book, but it entertains me and that's all that matters.
Book count: 48/50 – 96%
Pages in book: 652
Page count: 17,390
15,000 page goal reached 6/14/05!