2021: #42 – Only Mostly Devastated (Sophie Gonzales)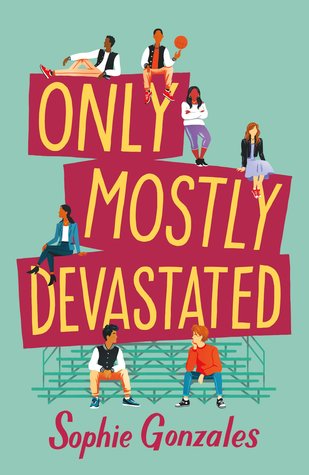 Only Mostly Devastated
by
Sophie Gonzales
Published by
Wednesday Books
on March 3, 2020
Genres:
y/a romance
,
lgbtq
Pages:
304


Will Tavares is the dream summer fling ― he's fun, affectionate, kind ― but just when Ollie thinks he's found his Happily Ever After, summer vacation ends and Will stops texting Ollie back. Now Ollie is one prince short of his fairy tale ending, and to complicate the fairy tale further, a family emergency sees Ollie uprooted and enrolled at a new school across the country. Which he minds a little less when he realizes it's the same school Will goes to... except Ollie finds that the sweet, comfortably queer guy he knew from summer isn't the same one attending Collinswood High. This Will is a class clown, closeted ― and, to be honest, a bit of a jerk.

Ollie has no intention of pining after a guy who clearly isn't ready for a relationship, especially since this new, bro-y jock version of Will seems to go from hot to cold every other week. But then Will starts "coincidentally" popping up in every area of Ollie's life, from music class to the lunch table, and Ollie finds his resolve weakening.

The last time he gave Will his heart, Will handed it back to him trampled and battered. Ollie would have to be an idiot to trust him with it again.
Right? Right.

SIMON VS. THE HOMO SAPIENS AGENDA meets CLUELESS in this boy-meets-boy spin on Grease
"Sometimes in life, terrible things happened. And sometimes really, really amazing things happened. And sometimes, those things all kind of happened at once."
This book was a goddamned delight.
Ollie has spent the summer away from his California home, spending time with his sick aunt and helping her out in North Carolina. He expected to be babysitting all summer, but he wasn't expecting to meet a cute boy. He and Will have had a secret summer romance, and parting is such sweet sorrow. Until Will ghosts him.
Then Ollie finds out that his parents want to move them to North Carolina longer term, to continue to help out his aunt. What he *doesn't* expect is that his new school is also where Will goes, and where Will is most decidedly not OUT. Ollie would really like to just mourn the loss of his relationship and friend, but Will doesn't seem like he's quite ready to let go. But only in private.
This book made me laugh and it made me cry. It was diverse and smart and had some things to say that I didn't expect. Some lines made me chuckle:
"A week later, and I was still getting lost more than the girl in the Labyrinth movie, except I didn't even have David Bowie in tights as a reward for my efforts."
And some lines made me cheer:
"I don't care if you're sorry! I didn't want an apology. I wanted you to think of me, and care about how I'd feel, before you did something horrible."
I wasn't expecting this book, and I'm glad it jumped up in front of me.
Other reviews:
"Overall, Only Mostly Devastated is a neat little queer YA contemporary that offered something new to a genre which can sometimes feel repetitive to me. People who enjoy Adam Silvera for his messy depictions of characters and relationships will probably find something to like in this book." — Jamishelves
"I highly, highly enjoyed Only Mostly Devastated. It had a fantastic cast of characters who you can't help but root for and a relationships that are adorable but take genuine hard work to get there. I loved Ollie as the main character and I wish I could read more books about him and his gang!" — Happy Indulgence
"I found the whole book completely realistic, thoughtful and touching. There is specifically a scene between Ollie and Lara that I adored and their friendship is my favourite." — Lost in Literature