2021: #60 – Anxious People (Fredrik Backman)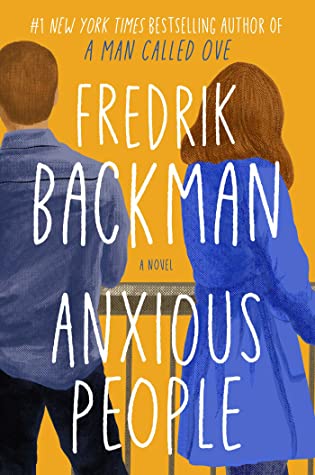 Anxious People
by
Fredrik Backman
Published by
Atria Books
on September 8, 2020
Genres:
literary fiction
Pages:
336


Also by this author:
Beartown
A poignant, charming novel about a crime that never took place, a would-be bank robber who disappears into thin air, and eight extremely anxious strangers who find they have more in common than they ever imagined

Looking at real estate isn't usually a life-or-death situation, but an apartment open house becomes just that when a failed bank robber bursts in and takes a group of strangers hostage. The captives include a recently retired couple who relentlessly hunt down fixer-uppers to avoid the painful truth that they can't fix up their own marriage. There's a wealthy banker who has been too busy making money to care about anyone else and a young couple who are about to have their first child but can't seem to agree on anything, from where they want to live to how they met in the first place. Add to the mix an eighty-seven-year-old woman who has lived long enough not to be afraid of someone waving a gun in her face, a flustered but still-ready-to-make-a-deal real estate agent, and a mystery man who has locked himself in the apartment's only bathroom, and you've got the worst group of hostages in the world.

Each of them carries a lifetime of grievances, hurts, secrets, and passions that are ready to boil over. None of them is entirely who they appear to be. And all of them—the bank robber included—desperately crave some sort of rescue. As the authorities and the media surround the premises, these reluctant allies will reveal surprising truths about themselves and set in a motion a chain of events so unexpected that even they can hardly explain what happens next.

Humorous, compassionate, and wise, Anxious People is an ingeniously constructed story about the enduring power of friendship, forgiveness, and hope—the things that save us, even in the most anxious of times.
This story is about a lot of things, but mostly about idiots. So it needs saying from the outset that it's always very easy to declare that other people are idiots, but only if you forget how idiotically difficult being human is.
A person, at the end of their rope, decides that the way they are going to move forward is to rob a bank. But not for a lot of money. Just a little bit! Just enough to cover rent on an apartment for a month. They'll pay it back! But things go awry, and instead of walking away with their rent money, they find themselves with an apartment full of hostages and the cops outside the door. Now what?
My only previous experience with Backman was Beartown, so I was really surprised to find that this is written in such a different, light-hearted style. A different tone could have made this feel like a completely different story. Never did I feel like any of the hostages were in real danger, though they easily could have been. In fact, the tension in the book is less about the hostage situation and more about the relationships between the characters and what is happening in their lives. People are connected in ways you don't expect. Everyone has their own set of anxieties, their own set of secrets, their own struggles. Backman does a great job of weaving everything together without giving you the full story until you need it. You think you know what's going on, and who did what, but you're probably wrong.
Is the scenario realistic? No, not really. But it's not about the hostage situation, it's about this hodge-podge group of people and the way their lives change in a single afternoon. I'm looking forward to reading more from Backman.
I read this for the following reading challenges:
Other reviews:
"Anxious People was in equal turns laugh-out-loud funny, heartbreaking, sanguine and profound. I finished the book with the biggest grin and a feeling of warmth." — Talk Nerdy Book Blog
"I suppose there's a degree of sappiness in the self-help advice that Backman offers, but the story is told with so much heart and humor that even the most cynical reader should be able to embrace it." — Tzer Island
"It's impossible to define Fredrik Backman's magical ability to make his readers know and understand not just the Julias et al in the story, but to come to know themselves better too." — Linda's Book Bag