2005: #22 – The Bastard (John Jakes)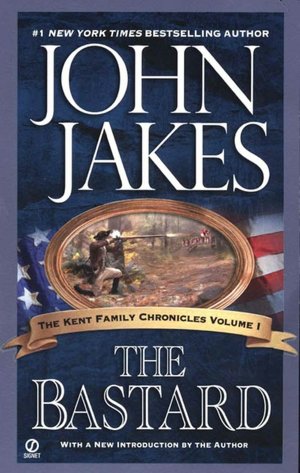 The Bastard
by
John Jakes
Series:
Kent Family Chronicles #01
Published by
Signet
on January 6th 2004
Genres:
historical fiction
Pages:
528


Also by this author:
North and South
,
The Rebels
,
Charleston
Also in this series:
The Rebels
One man's quest for his destiny leads him to the New World and into the heart of the American Revolution
Meet Phillipe Charboneau: the illegitimate son and unrecognized heir of the Duke of Kentland. Upon the Duke's death, Phillipe is denied his birthright and left to build a life of his own. Seeking all that the New World promises, he leaves London for America, shedding his past and preparing for the future by changing his name to Philip Kent. He arrives at the brink of the American Revolution, which tests his allegiances in ways he never imagined. The first volume of John Jakes's wildly successful and highly addictive Kent Family Chronicles, The Bastard is a triumph of historical fiction
Book #22 was The Bastard, by John Jakes.
I love John Jakes. I find his historical fiction to be incredible. I get sucked into the story so quickly. For example, I read his 1200 page Homeland in 3 days on my honeymoon. Part of what makes his books so good for me is his inclusion of real people as characters in his stories. Plus, this particular series takes place during a time in history that I do not know a whole lot about. Can't wait to read the rest.
Book count: 22/50 — 44%
Pages in book — 528
Page count: 6,715/15,000 — 44.76%