2021: #45 – The Last House Guest (Megan Miranda)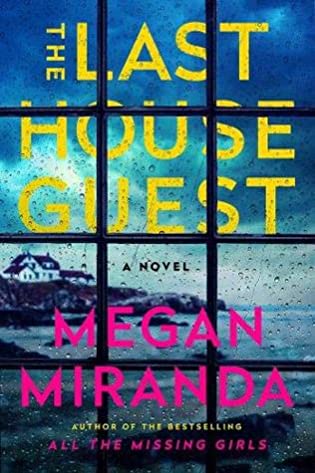 The Last House Guest
by
Megan Miranda
Published by
Corvus
on June 18, 2019
Genres:
thriller
,
suspense thriller
Pages:
336


The summer after a wealthy young summer guest dies under suspicious circumstances, her best friend lives under a cloud of grief and suspicion.Littleport, Maine, has always felt like two separate towns: an ideal vacation enclave for the wealthy, whose summer homes line the coastline; and a simple harbor community for the year-round residents whose livelihoods rely on service to the visitors.

Typically, fierce friendships never develop between a local and a summer girl—but that's just what happens with visitor Sadie Loman and Littleport resident Avery Greer. Each summer for almost a decade, the girls are inseparable—until Sadie is found dead. While the police rule the death a suicide, Avery can't help but feel there are those in the community, including a local detective and Sadie's brother, Parker, who blame her. Someone knows more than they're saying, and Avery is intent on clearing her name, before the facts get twisted against her. The Last House Guest is a smart, twisty read that brilliantly explores the elusive nature of memory and the complexities of female friendships.
This book ticked a few boxes for me: it takes place in Maine; there's a townie vs summer people aesthetic; people have SECRETS. But overall, it never really gelled.
Avery has lived in Littleport, Maine for her entire, tragic, life. She's now on her own, as the rest of her family has passed away. First her parents, in a car accident, and then her grandmother. Not long after her grandmother's death, she works a party at the home of the Lomans, a rich family who spend their summers in Littleport and own a lot of the rental properties in the area, and befriends Sadie, the Loman's same-aged daughter. Sadie takes Avery under her wing, and is everything Avery wishes she could be. It's not long before Avery is working year-round for the Lomans, managing their properties and living in their guest house.
Everything seems to be going great, until the night of the end-of-the-year party when Sadie is found dead at the bottom of the cliff their house sits on. After that, things start to slowly unravel for Avery, who is convinced that Sadie couldn't have committed suicide. But can she prove it?
Avery was a tough character to connect with. I'm not sure exactly what it was, but she felt very flat to me. And that doesn't improve once you realize that she may be an unreliable narrator. I also felt like the Lomans, especially the parents, were sort of cardboard cutouts of the arrogant rich guy trying to take over the town. The resolution felt very rushed, especially after the middle section seemed to take forever.
I'll give some other Megan Miranda books a shot because I've heard good things, but this one was just mediocre for me.
Other reviews:
"This book is about friendship, secrets, death, grief, money, class, social structure, discrimination, home, tragedy, and love. This is the 3rd book by Megan Miranda, and in my opinion, it's the best so far." — Read This, Not That
"The Last House Guest was such a thrilling mystery. Exciting and filled with suspense. I so loved working everything out." — Carina's Books
"If you're looking for a summer thriller to get you through the warm days, than do yourself a favor and pick up THE LAST HOUSE GUEST! This book has everything you need with a fascinating cast of characters, a secretive vacation town, and a mystery you can't wait to find out the truth behind." — What Jess Reads