2018: #17 – Reckless (Amanda Quick)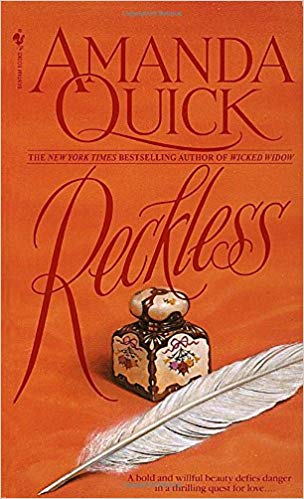 Reckless
by
Amanda Quick
Published by
Bantam Books
on December 1, 1992
Genres:
romance
Pages:
373


Also by this author:
'Til Death Do Us Part
From a crumbling fairy-tale castle on the stormy Sussex coast to a dazzling, dizzying masquerade ball comes an enchanting tale of a tarnished knight, a daring maiden, and a sweet, searing storybook love...

At sixteen, Phoebe Layton had imagined that Gabriel Banner was a brave and valiant knight, a noble-hearted hero born to rescue ladies in distress. Which is why, eight years later, when she desperately needed help to carry out a vital quest, she could think of no one more suited than Gabriel.

But when she lures her shining knight to a lonely midnight rendezvous, Phoebe finds herself sparring with a dangerously desirable man who is nothing like the hero of her dreams. And when he sweeps her into a torrid and blatantly unchivalrous embrace, she can't help but fear that she's made a dreadful mistake. It's a kiss that will seal Phoebe's fate. For now the exacting Earl of Wylde has a quest of his own--to possess the most intriguing, impulsive, outrageous female he has ever met...even if he has to slay a dragon to do it.
This was a pretty basic romance — a little bit of revenge, a little bit of falling for someone you shouldn't, a protesting family, a quick marriage. Phoebe is a little too liberated for everyone else's comfort, yet she ends up getting married practically under protest (which definitely has the potential of rubbing some people wrong). The chemistry between Phoebe and Gabriel is ultimately very good, which is why I kept reading. Sometimes I just like a quick romance read!
Other reviews:
"Gabriel was a hero readers will swoon over and Phoebe is great in the beginning. She's still "her" at the end, but I just felt that the story didn't hold up the promise of her character that was presented at the beginning." – Cheeky Reads