2021: #44 – The Invisible Life of Addie LaRue (V.E. Schwab)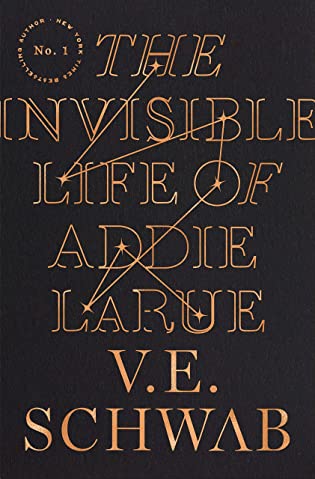 The Invisible Life of Addie LaRue
by
V.E. Schwab
Published by
Tor Books
on October 6, 2020
Genres:
fantasy
,
low fantasy
Pages:
442


A Life No One Will Remember. A Story You Will Never Forget.

France, 1714: in a moment of desperation, a young woman makes a Faustian bargain to live forever and is cursed to be forgotten by everyone she meets.

Thus begins the extraordinary life of Addie LaRue, and a dazzling adventure that will play out across centuries and continents, across history and art, as a young woman learns how far she will go to leave her mark on the world.

But everything changes when, after nearly 300 years, Addie stumbles across a young man in a hidden bookstore and he remembers her name.
"Nothing is all good or all bad," she says. "Life is so much messier than that."
In 1714, Addie LaRue is a young woman who is promised to be married to a much older man. Addie does not want to be married, she wants to travel and see things and meet people. She wants to live. So she runs away and begs the gods to help her. But the god that appears is not the one she expects, and before she knows it she's made a deal with the dark. A deal that means she will get to live as long as she wants, but no one will remember her.
Until she meets Henry.
The story moves back and forth between Addie and Henry's story in New York in 2014 and pieces of Addie's life after her deal. Schwab takes so many of the details of the difficulty of Addie's life into consideration — how she cannot earn money because no one will remember hiring her. How she must steal and sneak to survive, how she manages to travel from place to place when no one can remember selling her a ticket or agreeing to help her, her complicated relationship with The Darkness, the only being that knows who she is and can speak her name. At first she is bereft at her inability to leave her mark on the world, until she realizes that though she cannot produce things herself, she can inspire others. She can plant the seeds of ideas and watch them grow.
I enjoyed this more than I anticipated, and though I expected the ending to be tragic, it was not at all what I thought it would be. This is the first V.E./Victoria Schwab book I've read, but I would definitely read more.
I read this for the following reading challenges:
Other reviews:
"I think it will make perfect sense to anyone else that has read this book that The Invisible Life of Addie LaRue is a book of longing and yearning, with a message at its core that will resonate with many. It is the same message for Addie, for Henry, hell even Luc at rare times – that we just want to be seen and loved as our true selves." — Readable Life
"Schwab's prose is beautiful, lyrical, and compelled me to keep reading. I often say that I don't find myself reaching for fantasy or magic books, but I think that's changing! I loved this book and highly recommend it even if fantasy isn't your go-to genre." — She's Full of Lit
"I think Addie herself was an interesting character, I loved watching her develop through the 'curse' and learning more about herself in the process." — The Book Blog Life