2006: #39 – The Lost German Slave Girl (John Bailey)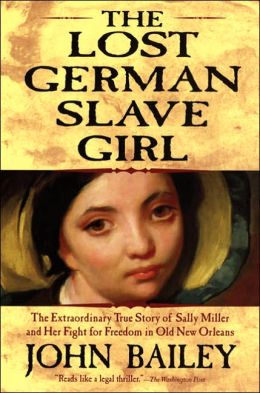 The Lost German Slave Girl: The Extraordinary True Story of the Slave Sally Miller and Her Fight for Freedom in Old New Orleans
by
John Bailey
Published by
Atlantic Monthly Press
on January 1, 2005
Genres:
narrative non-fiction
,
non-fiction
Pages:
268


It is a spring morning in New Orleans, 1843. In the Spanish Quarter, on a street lined with flophouses and gambling dens, Madame Carl recognizes the face of a German girl who disappeared twenty-five years earlier. But the olive-skinned woman is a slave, with no memory of a white past. And yet her resemblance to her mother is striking, and she bears two telltale birthmarks. Had a defenseless European orphan been illegally enslaved, or was she an imposter? So begins one of the most celebrated and sensational trials of nineteenth-century America. In brilliant novelistic detail, award-winning historian John Bailey uses Miller's dramatic trial to describe the fascinating laws and customs surrounding slavery, immigration, and racial mixing. Did Miller, as her relatives sought to prove, arrive from Germany under perilous circumstances as an indentured servant or was she, as her master claimed, a slave for life? The trial pits a humble community of German immigrants against a hardened capitalist and one of the most flamboyant lawyers of his time. Bailey follows the case's incredible twists and turns all the way to the Supreme Court and comes to a shocking conclusion in this investigative history that reads like a suspense novel.
Book #39 was The Lost German Slave Girl, by John Bailey.
I classify this book under "slightly fictionalized historical accounts". I have a few books like this. It was interesting, especially the explanations surround slavery and who was and wasn't or could or couldn't be a slave.
Book count: 39
Pages in book: 268
Page count: 15,439
Words in book: 93,890
Word count: 4,424,417