2021: #71 – The Worst Best Man (Mia Sosa)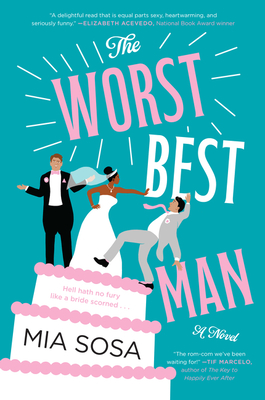 The Worst Best Man
by
Mia Sosa
Published by
Avon
on February 4, 2020
Genres:
romance
,
contemporary romance
Pages:
359


A wedding planner left at the altar. Yeah, the irony isn't lost on Carolina Santos, either. But despite that embarrassing blip from her past, Lina's managed to make other people's dreams come true as a top-tier wedding coordinator in DC. After impressing an influential guest, she's offered an opportunity that could change her life. There's just one hitch… she has to collaborate with the best (make that worst) man from her own failed nuptials.

Tired of living in his older brother's shadow, marketing expert Max Hartley is determined to make his mark with a coveted hotel client looking to expand its brand. Then he learns he'll be working with his brother's whip-smart, stunning —absolutely off-limits — ex-fiancée. And she loathes him.

If they can survive the next few weeks and nail their presentation without killing each other, they'll both come out ahead. Except Max has been public enemy number one ever since he encouraged his brother to jilt the bride, and Lina's ready to dish out a little payback of her own.

But even the best laid plans can go awry, and soon Lina and Max discover animosity may not be the only emotion creating sparks between them. Still, this star-crossed couple can never be more than temporary playmates because Lina isn't interested in falling in love and Max refuses to play runner-up to his brother ever again...
Carolina should be married, except 3 years ago her fiancé left her at the alter and left his brother, Max, to break the news to her. This isn't the best history for a wedding planner to have, but it's helped her hone her ability to find solutions to the crazy disasters that weddings sometimes manifest. That ability helps her catch the eye of the owner of a fancy DC hotel that is looking for a wedding coordinator, but she's not the only one vying for the position. In order to get it, she has to pair up with one of the marketers also working with the hotel. The problem is, one of these marketers is her ex-fiancé, and the other is Max. Putting aside her feelings of anger and betrayal to get this job-of-a-lifetime may be the hardest thing she's ever done.
The book is a fun romp through the world of DC wedding planning, complete with uncomfortable conversations, couples retreat hijinks, distrustful families, and steamy hook-ups. I really enjoyed it, and will definitely read more romances by Sosa.
I read this for the following reading challenges:
Other reviews:
"Overall, The Worst Best Man was a fun, entertaining and hilarious read which I devoured in one day. I would highly recommend this book, it had everything a romantic comedy needs, and it certainly won't be my last by Mia." — RosieLovesReading
"It was a little hard to get a grip on Lina's personality. It would confuse me sometimes trying to figure out what she wanted in her life and what she was actually happy with. Because of that, I dropped this book down a star. Other than that, I really enjoyed this book!" — The Book View
"…though the book didn't end with the same sense of excitement that carried the novel, it was a thoroughly enjoyable read and a not so subtle reminder of just how single I am (if anyone is, or has, a hot brother: apply within)." — Jen Rose Writes