2005: #5 – The Reptile Room (Lemony Snicket)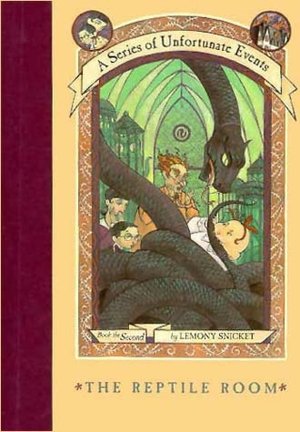 The Reptile Room
by
Lemony Snicket
Series:
A Series of Unfortunate Events #02
Published by
HarperCollins Publishers
on September 30th 1999
Genres:
middle grade
Pages:
190


Also by this author:
The Bad Beginning
,
The Wide Window
Also in this series:
The Bad Beginning
,
The Wide Window
Dear Reader,

If you have picked up this book with the hope of finding a simple and cheery tale, I'm afraid you have picked up the wrong book altogether. The story may seem cheery at first, when the Baudelaire children spend time in the company of some interesting reptiles and a giddy uncle, but don't be fooled.

If you know anything at all about the unlucky Baudelaire children, you already know that even pleasant events lead down the same road to misery.
In fact, within the pages you now hold in your hands, the three siblings endure a car accident, a terrible odor, a deadly serpent, a long knife, a large brass reading lamp, and the appearance of a person they'd hoped never to see again.

I am bound to record these tragic events, but you are free to put this book back on the shelf and seek something lighter.

With all due respect,
Lemony Snicket
Thanks to my 8 hour round trip to Richmond for a meeting (yes, I'm blogging in the middle of it now!), I've managed to knock off the next Lemony Snicket A Series of Unforunate Events book — Book the Second, The Reptile Room.
Again, the book was quite good. I'm starting to get into them. One especially charming technique he uses is the use of more complex vocabulary and then defining the vocabulary within the story. You'd think this would be annoying, but it really isn't. I'll probably get through the next book on the 4 hour drive home this afternoon.
I have to give an extra "huzzah!" to the songs that appear in the audio version of the book. They are really great.
Page count: 1,644/15,000