2019: #21 – The Color Purple (Alice Walker)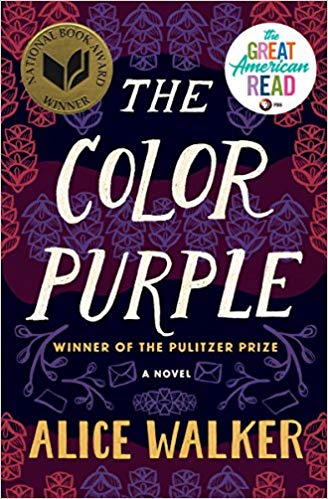 The Color Purple
by
Alice Walker
Published by
Houghton Mifflin Harcourt
on June 1, 1982
Genres:
hf - 1930s
Pages:
245


In Meridian, Alice Walker wrote the classic novel of the civil rights movement. Her new novel goes back to the period between the World Wars. It tells the story of two sisters: one a missionary in Africa and the other a child-wife living in the South, who sustain their loyalty and trust in each other across time, distance, and silence, in one of the most unusual and moving exchanges in fiction.

The principal voice is that of Celie, who has been raped by the man she believes to be her father, robbed of her two children, and married off to a man she hates. Her sister, Nettie,e escapes the same fate and is befriended by missionaries, man and wife, who have unwittingly adopted Celie's children. Separated for thirty years, the sisters live in ignorance of each other's circumstances. Nettie's letters do not reach Celie; and so great is Celie's sense of shame that she can write only to God. But life for Celie begins to change color when her husband's lover, a remarkable woman named Shug Avery, comes to live with them.

Honest, poignant, laughing, defiant, The Color Purple is a story about heroic lives, love, and the nature of God, and it breaks new ground in fiction with its portrayal of the bonding of women.
I first read this book when I was a teen, and just re-read it for my book club, roughly 25 years later. I knew it was a great book, but I had forgotten just how wonderful it is. I had also completely forgotten that it was an epistolary novel. One more thing I had either forgotten or it possibly went right over my head when I read it the first time — some of the sex is a little bit graphic. Not in a bad way, just in a "oh, I don't remember THAT" way.
Celie is such a strong woman and a strong character, even when she feels like she is so weak she will die. Her love is so amazing, and her heart is so big that it can even contain forgiveness for those who have wronged her greatly in her life. This story has continued to touch me throughout my life. And, it's a pretty great movie too.
Other reviews:
"And I love, love, love, loved the beautiful ending to this book. I just felt so dang GOOD when I finished, and not in that cheap, sentimental kind of way, but in that this-world-really-can-be-a-good-place kind of way." — The Blue Bookcase
"This book was a symbol for intersectionality. It touched upon race, gender, religion, and oppression. I usually do not read contemporary novels, instead opting for a fantasy, but I loved this book. I think it is one of those books that people NEED to read. Especially females." — Hush Hush, I'm Reading
"The Bottom Line: An extremely beautiful, moving and powerful story of an extraordinary girl growing up in the American South of the 1930s. Quite possibly the most beautiful book I've ever read." — Literary Corner Cafe