2021: #67 – My Lovely Wife (Samantha Downing)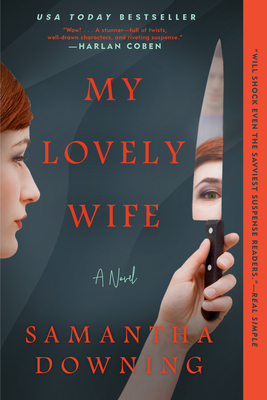 My Lovely Wife
by
Samantha Downing
Published by
Berkley Books
on March 3, 2020
Genres:
domestic suspense
Pages:
400


Dexter meets Mr. and Mrs. Smith in this wildly compulsive debut thriller about a couple whose fifteen-year marriage has finally gotten too interesting...

Our love story is simple. I met a gorgeous woman. We fell in love. We had kids. We moved to the suburbs. We told each other our biggest dreams, and our darkest secrets. And then we got bored.

We look like a normal couple. We're your neighbors, the parents of your kid's friend, the acquaintances you keep meaning to get dinner with.

We all have our secrets to keeping a marriage alive.

Ours just happens to be getting away with murder.
This is a wild book where two sociopaths meet on a plane, get married, have 2 kids, and become serial killers. You get everything from the point of view of the husband, which certainly qualifies as an unreliable narrator. The wife is not very well portrayed, despite both of them being partners in these crimes — he as the hunter, she as the killer. The children provided interesting wrinkles in the plot and were more a part of the story than I expected, especially considering it was from the male point of view. I'm not sure the resolution really holds up that well, but it was still an enjoyable listen and it kept me entertained.
I read this for the following reading challenges:
Other reviews:
"In the crowded domestic suspense field, MY LOVELY WIFE is a true standout. Wicked and sinister, wry and addictive, this standout suspense novel elevates the domestic thriller, effectively raising the bar for its peers." — Crime by the Book
"The novel being a domestic thriller is just the tip of the iceberg. 'My Lovely Wife' treads on the consequences of mistrust and being reckless. It also talks about the effects of crime and human violations on children as exposed through social media and how important it is for parents to set a good example for their kids." — The Boundless Bookwork
"This is a book that truly stands out for me in this genre. It's a great read with lots of strange twists and little bits of the story that don't seem like they are going to fit together some how find their way to each other by the end." — the lit bitch