2006: #1 – Conspiracy in Death (J.D. Robb)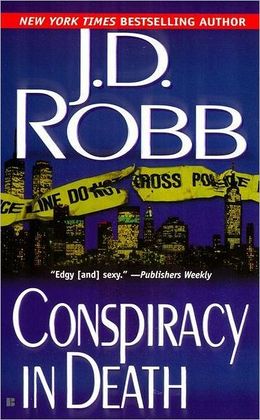 Conspiracy in Death
by
J.D. Robb
Series:
In Death #08
Published by
Berkley
on April 1st 1999
Genres:
romance
,
romantic suspense
Pages:
372


Also by this author:
Naked in Death
,
Immortal in Death
Also in this series:
Naked in Death
,
Immortal in Death
At a time when human nature remains as predictable as death, a killer plays God--and puts innocent lives in the palm of his hand...

With the precision of a surgeon, a serial killer preys on the most vulnerable souls of the world's city streets. The first victim: a sidewalk sleeper, found dead in New York City. No bruises, no signs of struggle. Just a laser-perfect, fist-sized hole where his heart had once been. Lieutenant Eve Dallas is assigned to investigate. But in the heat of a cat-and-mouse game with the killer, Dallas's job is suddenly on the line. Now her hands are tied ... between a struggle for justice--and a fight for her career...
Book #1 for 2006 was Conspiracy in Death, the eighth novel in J.D. Robb's In Death series.
Yet another winner from J.D. Robb/Nora Roberts. I really enjoy this series.
Book count: 1
Pages in book: 386
Page count: 386
Words in book: 108,179
Word Count: 108,179