2006: #2 – Cyclops (Clive Cussler)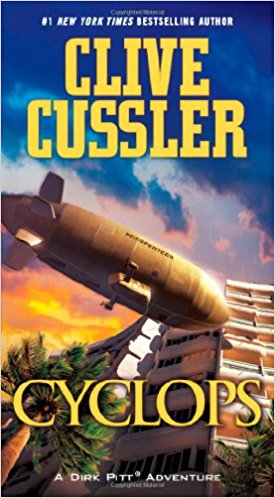 Cyclops
by
Clive Cussler
Series:
Dirk Pitt #08
Published by
Pocket Books
on April 26th 2011
Genres:
adventure thriller
Pages:
614


Also by this author:
Blue Gold
Clive Cussler's bestselling Cyclops is another swashbuckling NUMA Files adventure! When a financier turned treasure hunter vanishes mysteriously, only Dirk Pitt can prevent an international incident that threatens to start a war.

A wealthy American financier disappears on a treasure hunt in an antique blimp. From Cuban waters, the blimp drifts toward Florida with a crew of dead men—Soviet cosmonauts. Dirk Pitt discovers a shocking scheme: a covert group of US industrialists has put a colony on the moon, a secret base they will defend at any cost. Threatened in space, the Russians are about to strike a savage blow in Cuba—and only NUMA's Dirk Pitt can stop them. From a Cuban torture chamber to the cold ocean depths, Pitt is racing to defuse an international conspiracy that threatens to shatter the earth!
Book #2 of 2006 was Cyclops, the 8th book in Clive Cussler's Dirk Pitt series.
I wasn't thrilled with this installment. For me, it was more Tom Clancy than Clive Cussler. Too much politics, not enough adventure! And it was missing that special brand of humor that usually peppers a Cussler novel. I was quite blah about it.
Book count: 2
Pages in book: 473
Page count: 859
Words in book: 142,983
Word count:251,162